Soundtrack Information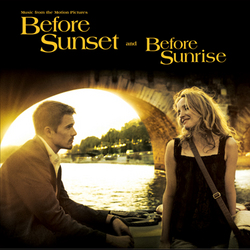 Before Sunset and Before Sunrise
Milan Records (M2-36080)
Release Date: July 6, 2004
Formats: CD, Digital
Music From
Purchase Soundtrack
Track Listing
| | | |
| --- | --- | --- |
| 1. | "Je t'aime tant" - Julie Delpy | 3:52 |
| 2. | "Living Life" - Kathy McCarty | 2:32 |
| 3. | "A Waltz For A Night" - Julie Delpy | 3:31 |
| 4. | ""Andante" from Sonanta for Viola da Gamba in G Major, BWV 1027 (Bach)" - Laurence Dreyfus (viola da gamba) and Ketil Haugsand (harpsichord) | 2:22 |
| 5. | "Dido and Aenas Overture (Purcell)" - The Scholars Baroque Ensemble | 1:56 |
| 6. | "An Ocean Apart" - Julie Delpy | 4:01 |
| 7. | "Come Here" - Kath Bloom | 2:55 |
| 8. | ""Varianto 25" from The Goldberg Variations in G Major, BWV 988 (Bach)" - Igor Kipnis (harpsichord) | 3:54 |
| 9. | "The Human Pump" - Harald Waiglein | 3:07 |
| 10. | "Dancing with Da Rat" - Loud | 3:58 |
| 11. | "Trapeze" - Lou Christie | 2:24 |
| | Total Album Time: | 34:32 |
From the Manufacturer
Combining music from Before Sunrise and Before Sunset, the soundtrack includes romantic classical, pop rock and folk music featuring four tracks by Julie Delpy. Before Sunrise was released in 1995, chronicling an evening unwinding through the eyes of two strangers, Jesse (Ethan Hawke) and Celine (Julie Delpy)—meeting on a Euro-train experiencing a foreign city and each other for the first time. Nine years have passed since that night. On the last stop of his book tour, Jesse finds Celine watching from the back of the room. In a stimulating and revealing journey through Paris, in real time, these two individuals explore the inner workings of their hearts and minds and rediscover their rare yet powerful love for the unexpected, the unrehearsed, and each other Before Sunset.
Missing Information?
If any information appears to be missing from this page, contact us and let us know!