Soundtrack Information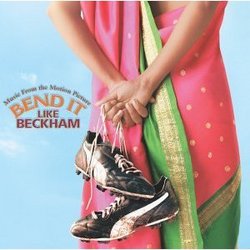 Bend It Like Beckham
Milan Records (M2-36010)
Release Date: March 11, 2003
Formats: CD, Digital
Music From
Purchase Soundtrack
Track Listing
| | | |
| --- | --- | --- |
| 1. | "Titles" - Craig Pruess & Bally Sagoo feat. Gunjan | 0:21 |
| 2. | "Inner Smile" - Texas | 3:51 |
| 3. | "Jind Mahi" - Malkit Singh | 6:11 |
| 4. | "Noorie" - Bally Sagoo feat. Gunjan | 5:57 |
| 5. | "I Wish" - Victoria Beckham | 4:13 |
| 6. | "Kinna Sohna" - Gunjan | 5:55 |
| 7. | "Tere Bin Nahin Lagda" - Partners in Rhyme feat. Nusrat Fateh Ali Khan | 5:51 |
| 8. | "Independence Day" - Melanie C | 4:19 |
| 9. | "Punjabiyan Di Shaan" - Hans Raj Hans | 3:54 |
| 10. | "Darshan" - B21 | 5:12 |
| 11. | "Hot Hot Hot" - Bina Ministry | 2:47 |
| 12. | "Atomic" - Blondie | 3:51 |
| 13. | "Hai Raba!" - Craig Pruess & Bally Sagoo feat. Gunjan | 0:18 |
| 14. | "Nessun Dorma" - Tito Beltran | |
| | Total Album Time: | 52:40 |
From the Manufacturer
Bally Sagoo's irresistible East-meets-West dance hybrids set the tone for the Bend it Like Beckham soundtrack, which also features cool Asian melodies and songs ranging from 80s disco to 90s electronic. Included is the song "I Wish" by Victoria Beckham (Posh Spice), and tracks by Blondie, Melanie C, Texas and Partners in Rhyme featuring Nusrat Fateh Ali Khan.
Review: Bend It Like Beckham
by Andrew Granade
August 24, 2003
3 / 5 Stars
We all know the story fairly well. In the 1980s, record producers discovered that a hit movie would sell albums, whether or not the music had anything to do with the movie in question. Although early efforts included songs that were actually featured in the film, as the years progressed it became increasing clear that the majority of these releases were instances of corporate barrel-scraping. Record companies tied to movie studios such as Warner Brothers tested the waters with unsigned groups on these Music Inspired By releases, resulting in one or two decent songs and a slew of forgettable ones. For every Pretty Woman (which featured songs in the movie) there were three Batman and Robins (a movie whose Elliot Goldenthal score, better than the movie it accompanied, was then never released).
This situation, in which "Music Inspired By" albums are rushed to the stores while scores languish, is understandably irksome to film music buffs, but once and awhile an interesting soundtrack is released. The soundtrack for Bend It Like Beckham is thankfully just such a release.
A smash in England last year, Bend It Like Beckham tells the story of an Indian family in London and their soccer-loving daughter Jesminder. The young girl longs to play soccer like her idol, Englands fair-haired player de jour David Beckham, but is not allowed as the game requires wearing shorts (which would frightfully bare her legs to the world). While her sister prepares for a traditional Indian wedding, Jess surreptitiously joins the local women's soccer team and she must ultimately choose between attending a big game or her sisters wedding. A feel-good movie in the tradition of last year's My Big Fat Greek Wedding, Bend It Like Beckham is quickly winning audiences in the States.
The soundtrack is a mirror of the films social concerns, freely mixing Indian-inspired pop, American punk, and Italian opera. It is also a disco/world beat fever dream perfect for the coming summer months. There are a few notable missteps, primarily from Victoria Beckham (David's wife, although better known as Posh Spice) and her former spicy cohort Mel C. Victoria Beckham's "I Wish" cannot decide if it wants to be disco or Britney Spears bubble gum pop and therefore succeeds as neither and Mel C's "Independence Day" makes one beg to be set free from its grasp. Similarly the Bina Mistry's remaking of "Hot Hot Hot" drains the fun from the original in a effort to make it contemporary complete with a sampled steel band and appreciative cries from the imagined audience.
I would suggest you stick with the Bollywood inspired tracks on the disc, especially a sparkling track "Tere Bin Nahin Lagda" featuring legendary vocalist Nusrat Fateh Ali Khan. These tracks deliver the charm and drive promised by the movie. Not even the obligatory Puccini aria "Nessun Dorma," as strange here as in the Barbara Streisand movies in which it has appeared, can shake the good time engendered by these tracks. So if you are looking for a little fun on a soundtrack without much fat, it might be worth a listen.
Missing Information?
If any information appears to be missing from this page, contact us and let us know!