Soundtrack Information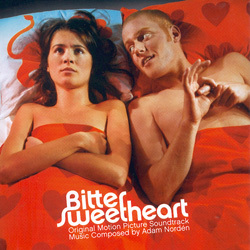 Bitter Sweetheart
Riviera Records (004)
Release Date: 2007
Format: CD
Music From
Music By
Track Listing
| | | |
| --- | --- | --- |
| 1. | In The Toilet | 1:07 |
| 2. | Main Credits | 1:07 |
| 3. | Mirror Mirror | 0:29 |
| 4. | Ivar | 0:40 |
| 5. | The Park | 1:20 |
| 6. | Drunken Snogging | 2:56 |
| 7. | Back In School | 0:58 |
| 8. | Ivar's Family | 1:50 |
| 9. | Ivar & Dunja | 0:27 |
| 10. | Masturbation | 1:05 |
| 11. | Penis/Pencils | 0:38 |
| 12. | Dannes' Place | 0:28 |
| 13. | Period And The 9.30 Bus | 2:12 |
| 14. | Point At The Clitoris | 1:08 |
| 15. | First Time | 2:08 |
| 16. | Who The Fuck Is Dunja | 0:56 |
| 17. | Lina Wants To Break Up | 0:35 |
| 18. | Je Vais Aux Champs Elysées | 1:47 |
| 19. | Break Up Sex | 0:54 |
| 20. | Panic | 1:04 |
| 21. | Anxiety | 1:54 |
| 22. | Pregnancy Test | 2:03 |
| 23. | Biking And Talking To God | 0:52 |
| 24. | Last Day Of School | 1:24 |
| | Total Album Time: | 30:02 |
Review: Bitter Sweetheart
by Jonathan Jarry
April 29, 2007
4 / 5 Stars
Bitter Sweetheart, or Linas kvällsbok in its native Swedish, was a complete enigma to me. I tried as hard as I could to find any information on the movie but could not for the life of me find anything in English. The trailer made the film out to be an American Pie for the Swedish masses; then again, the whole thing was in Swedish. What drew my attention to it in the first place was Adam Nordén\'s name. His score to Zozo was beautiful and made great use of the duduk, and I was curious to listen to what he had been up to since then. Thusly armed (read "ill-prepared"), I listened to Bitter Sweetheart. Its electronic stylings and modern appeal were surprising at first, but Nordén\'s attention to crafting a detailed yet light and fun signature sound for the film was ultimately disarming and proved to make Bitter Sweetheart into an equally satisfying yet completely distinct musical experience to Zozo.
The movie, it turns out, begins as a sort of Heathers for the senior class of the Grundskola or Swedish primary school. Its protagonist is Lina Berglund, the invisible and unpopular glue that holds the popular clique together. She longs for Thea\'s good looks and Carro\'s daring personality. Thus, she decides to step out of their shadow and go through the experiences she has been denied so far: adventures in love, sex, and pregnancy scares. Nordén\'s score is comprised of mostly short and fun cues that prove teen sex comedies don\'t need a wall-to-wall sonic carpet of pop songs. His themes are as much melodic ideas as they are specific groupings of instruments and sounds, creating a score that seems somewhat minimal on the surface but that is in fact quite rich and consistent.
"In the Toilet" opens wide with spiritual harmonies for spacey synths which are quickly shattered (as rapidly as teen dreams of romance and knights in shining armor) by a recurring and lewd bass motif, accompanied by marimba, pizzicato strings, and an electronic drum kit. This vaguely Cruel Intentions like sound comes again in tracks such as "Mirror Mirror" and "Masturbation", yet is never entirely identical, Nordén mutating the motif a bit each time, changing the percussive accompaniment, and varying it in such a way as to keep it fresh yet recognizable. A hesitant theme is initiated in "Drunken Snogging": its combination of slogging pizzicato strings, comedic synthesizers, marimba, and penetrating electronic bass is stretched over the three-part suite of "Penis/Pencils", "Dannes\' Place", and "Period and the 9.30 Bus". Whenever it stops, Nordén punctuates the near silence with a rotating soundscape of clicks, hits, rolls, and pricks. The score shows its ingenuity when these various instrumental and melodic ideas embrace each other such as in "Break Up Sex", where the lewd bass motif is pitched up several octaves and is straddled by the delicate "anxiety" synth theme and a marimba rhythm, both heard in previous cues, while a didgeridoo color is added to spice things up as the tension rises to the sound of string bows rubbing at a staccato action rhythm. It all climaxes into the genre-hopping "Panic", which sounds as if it was plucked from an American thriller for the mobilization of a negotiating team in a hostage situation.
Lina\'s personal story in all this, stripped of its comedic experiments, is given more emotional material, such as a spiritual choir and shining glockenspiel and bells in "Ivar" stating Lina\'s love theme and recalling the burning bush theme from The Prince of Egypt. The following cue, "The Park", gives us a piano and choir duet of pure feminine beauty for "the magic of the first time", while "First Time", "Anxiety", and "Pregnancy Test" state a fragile and touching coming-of-age melody for the consequences of sex using minimal strings, piano, and harp. Nordén\'s score is given a fresh finale of pizzicato bass, guitars, and marimba, recalling Beck\'s Year of the Dog, in "Biking and Talking to God", while an invigorating cello and violin ostinato evokes a pull-back crane shot finale in "Last Day of School", Bitter Sweetheart\'s coda.
Adam Nordén has succeeded in creating a crisp and modernistic score for a teen comedy, utilizing an array of synthesizers, beats and rhythms both electronic and organic, as well as distinct thematic ideas, all rolled into a fun and polished whole that can be as moving as it can be satirical. Don\'t let the movie\'s varied prosody and voiceless palatal-velar fricatives scare you; Nordén\'s score is approachable and its musical jargon of comedy ubiquitous in the Western hemisphere. Sex is, after all, a universal language.
Missing Information?
If any information appears to be missing from this page, contact us and let us know!