Soundtrack Information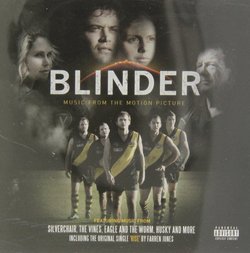 Blinder
Release Date: March 12, 2013
Format: CD
Music From
Purchase Soundtrack
Track Listing
1.
Showtime (Katalyst)
2.
Get Activated (Gerling)
3.
I am the Light (Even)
4.
I Don't Know What to do Any More (Screamfeeder)
5.
Weak Chin (The Fauves)
6.
Outtathaway (The Vines)
7.
All I Know (Eagle and The Worm)
8.
Our Last Stand (SubAudible Hum)
9.
History's Door (Husky)
10.
Stranger (Katie Costello)
11.
Those Thieving Birds (Pt.1) / Strange Behavior / Those Thieving Birds (Pt.2) (Silverchair)
Track lengths not available for this album. If you have track length/time information for this album, please e-mail it to us at mail@soundtrack.net and we will add it to the database.
Missing Information?
If any information appears to be missing from this page, contact us and let us know!