Soundtrack Information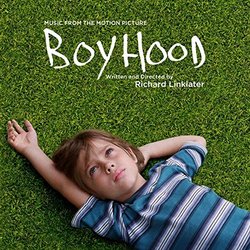 Boyhood
Release Date: July 4, 2014
Formats: CD, Digital
Music From
Purchase Soundtrack
Track Listing
| | | |
| --- | --- | --- |
| 1. | Summer Noon (Jeff Tweedy) | 3:33 |
| 2. | Yellow (Coldplay) | 4:28 |
| 3. | Hate To Say I Told You So (The Hives) | 3:19 |
| 4. | Could We (Cat Power) | 2:21 |
| 5. | Do You Realize?? (The Flaming Lips) | 3:32 |
| 6. | Crazy (Gnarls Barkley) | 2:58 |
| 7. | One (Blake's Got A New Face) (Vampire Weekend) | 3:13 |
| 8. | Hate It Here (Wilco) | 4:31 |
| 9. | Good Girls Go Bad (Feat. Leighton Meester) (Cobra Starship) | 3:16 |
| 10. | Beyond The Horizon (Bob Dylan) | 5:34 |
| 11. | Band On The Run (Paul Mccartney & Wings) | 5:11 |
| 12. | She's Long Gone (The Black Keys) | 3:06 |
| 13. | Somebody That I Used To Know (Gotye, feat. Kimbra) | 4:03 |
| 14. | I'll Be Around (Yo La Tengo) | 4:45 |
| 15. | Hero (Family Of The Year) | 3:10 |
| 16. | Deep Blue (Arcade Fire) | 4:27 |
| | Total Album Time: | 61:27 |
From the Manufacturer
The film's soundtrack spans the story's 12 years, with songs ranging from the year 2000 (Coldplay's "Yellow" and The Hives' "Hate to Say I Told You So") to 2013 (Yo La Tengo's "I'll Be Around"). The album also includes the classic "Band on the Run," by Paul McCartney and Wings (from the 2010 re-mastered album of the same name) and the debut of a new song written by Jeff Tweedy and performed by the father/son duo Tweedy—"Summer Noon." The album was produced by Richard Linklater and Randall Poster.
Missing Information?
If any information appears to be missing from this page, contact us and let us know!