Soundtrack Information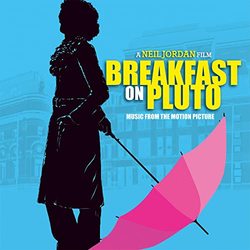 Breakfast on Pluto
Milan Records (M2-36149)
Release Date: January 10, 2006
Formats: CD, Digital
Music From
Purchase Soundtrack
Track Listing
| | | |
| --- | --- | --- |
| 1. | "Sugar Baby Love" - The Rubettes | 3:25 |
| 2. | "You're Such a Good Looking Woman" - Joe Dolan | 2:55 |
| 3. | "You're Breakin' My Heart" - Harry Nilsson | 3:08 |
| 4. | "Breakfast on Pluto" - Don Partridge | 3:51 |
| 5. | "Me and My Arrow" - Harry Nilsson | 2:09 |
| 6. | "Honey" - Bobby Goldsboro | 4:00 |
| 7. | "How Much is That Doggie in the Window" - Patti Page | 2:42 |
| 8. | "Caravan" - Santo & Johnny | 2:37 |
| 9. | "Morris Albert" - Feelings | 3:46 |
| 10. | "Windmills of Your Mind" - Dusty Springfield | 3:54 |
| 11. | "Sand" - Gavin Friday & Cillian Murphy | 3:42 |
| 12. | "Children of the Revolution" - T.Rex | 2:32 |
| 13. | "Wig Wam Bam" - Gavin Friday | 3:06 |
| | Total Album Time: | 41:47 |
From the Manufacturer
A vibrant, picturesque new movie from Neil Jordan, the award winning director of The Crying Game, among others. Set in the 1970's, Breakfast on Pluto follows the exploits of Patrick Braden (Cillian Murphy), an endearing, but deceptively tough young man. Jordan weaves a wonderfully surreal and magical tale to bring us this funny, moving and poignant rites of passage account of a young man enduring the trials and tribulations he faces with a smile and unwavering faith in the inherent goodness in us all. From the melodrama of Bobby Goldsboro's "Honey" (Kitten's theme song about a bereft young widower mourning his lost bride), to a stirring Handel chorale, to disco and punk, music is a powerful force in "Breakfast on Pluto."
Missing Information?
If any information appears to be missing from this page, contact us and let us know!