Soundtrack Information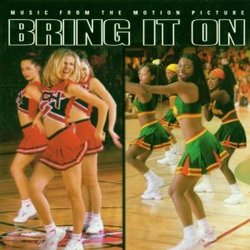 Bring It On
Epic (EK 61431)
Release Date: August 22, 2000
Formats: CD, Digital
Music From
Purchase Soundtrack
Track Listing
| | | |
| --- | --- | --- |
| 1. | As If (Blaque featuring Joey Fatone, Jr.) | 3:43 |
| 2. | See Ya (Radio Mix) (Atomic Kitten) | 2:51 |
| 3. | Mickey (B*Witched) | 3:27 |
| 4. | Anywhere USA (P.Y.T. | 4:04 |
| 5. | U.G.L.Y. (Daphne & Celeste) | 3:22 |
| 6. | Jump Up (If You Feel Alright) (Da Beat Bros.) | 3:58 |
| 7. | Freakin' You (The Jungle Brothers) | 3:34 |
| 8. | Cheer For Me (95 South) | 4:35 |
| 9. | What's A Girl To Do (Urban Mix) (sister2sister) | 2:41 |
| 10. | Bring It All To Me (Remix) (Blaque featuring 50 Cent) | 4:05 |
| 11. | 'Til I Say So (3LW) | 3:55 |
| 12. | 2 Can Play That Game (Sygnature) | 3:10 |
| 13. | As If (Blaque) | 3:45 |
| | Total Album Time: | 47:10 |
Review: Bring It On
by Matthew Sheby
December 2, 2004
2 / 5 Stars
Bring It On presents the blindingly attractive Kirsten Dunst as a cheerleader trying to lead her team to victory at the National Competition. The film presents the sport of athletic cheerleading in quite a serious manner, while at the same time having fun with the story. As can be expected, most of the soundtrack's music relates to either the feelings of the female protagonists or the up-tempo, fast-paced dance numbers that often back cheerleaders' routines.
To begin with, my favorite track would have to be the B*Witched (a Spice Girls clone) cover of Toni Basil's "Mickey." With lines like "You take me by the heart when you take me by the hand," how can one not like this delightful return to 80's music? Of course, the song's been "updated," meaning there are unnecessary sound effects and turntable-scratching. For the record, I don't completely detest the changes; I do like the group's harmonizing on the chorus. Plus, it's a lot of fun to see the film's cast lip-synch this song during the end credits.
Blaque has the album's intro track on "As If," an R&B song. "You're not going to run me; I'm going to run you." They're in charge, gentlemen. Not much else I can say, except that there are two versions of this song on the soundtrack. The first briefly features one of the guys from 'N Sync in an extended mix; the other doesn't. Blaque further contributes a remixed "Bring It All To Me" that features a guest spot by the rappers 50 Cent. Also in the R&B vein is 3LW's empowerment of women in "'Till I Say So." To summarize, men should "take it slow" and "can't pass go" until "[the woman in question] say[s] so." It's slower paced; I guess you could grind to this song. Atomic Kitten donated the lightweight pop tune "See Ya (radio mix)". Basically, you're not needed because "it's a big sea out there," and, unfortunately, "you're not [her] favorite dish." <>
There are a few other danceable numbers. One is "Jump Up (If You Feel Alright)", a good reggae/dancehall piece. (It reminds me of a Shabba Ranks song I can't remember the name of.) "What's a Girl To Do (Urban Mix)" is another dance tune. It seems like it started as an R&B song, then was remixed to be booty-bass friendly. A song I must mention is "U.G.L.Y.," which plays off a cheerleader refrain. It's a delightful, content-free song talking smack about some third-party: "I heard about you—you're the main attraction at the city zoo!" It's a lot of fun.
I found "Freakin' You" to the most frustrating song on the soundtrack. Though it has one of the coolest, fattest basses this side of Stevie Wonder's "Superstition," the Jungle Brothers remind listeners that people should never use the phrase "funky track" in a song unless they want people to laugh at the "funny white guys." Let that be a lesson to all songwriters out there. With the exception of the "Mickey" cover, no song stood out on its own. Unfortunately for Universal Pictures, it goes against SoundtrackNet policy to give extra credit to the album for featuring a bikini-clad lead actress in the liner notes. I'm truly sorry about that. This only gets two stars out of five.
Missing Information?
If any information appears to be missing from this page, contact us and let us know!