Soundtrack Information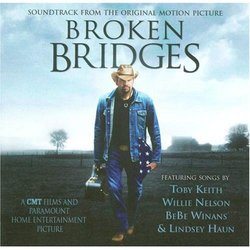 Broken Bridges
Release Date: August 21, 2006
Formats: CD, Digital
Music From
Purchase Soundtrack
Track Listing
| | | |
| --- | --- | --- |
| 1. | "Broken Bridges (With Lindsey Haun)" - Toby Keith | 3:09 |
| 2. | "Thinkin' 'Bout You" - Fred Eaglesmith | 3:19 |
| 3. | "Crash Here Tonight" - Toby Keith | 2:11 |
| 4. | "Broken" - Lindsey Haun | 4:00 |
| 5. | "Along For The Ride" - Matraca Berg | 3:45 |
| 6. | "Uncloudy Day (With Toby Keith And Bebe Winans)" - Willie Nelson | 3:54 |
| 7. | "What's Up With That" - Scotty Emerick | 3:01 |
| 8. | "High On The Mountain" - Flynnville Train | 3:50 |
| 9. | "The Battlefield" - Sonya Isaacs | 3:14 |
| 10. | "Can't Go Back" - Toby Keith | 3:12 |
| 11. | "The Waiting Game" - Poor Richard's Hound | 2:52 |
| 12. | "Big Bull Rider" - Toby Keith | 2:04 |
| 13. | "Zig Zag Stop" - Toby Keith | 2:35 |
| 14. | "Jacky Don Tucker (Play By The Rules Miss All The Fun)" - Toby Keith | 3:03 |
| | Total Album Time: | 44:09 |
Review: Broken Bridges
by John Merriman
October 10, 2006
3 / 5 Stars
Broken Bridges, the movie vehicle for country music star Toby Keith, features a soundtrack that, not surprisingly, is firmly rooted in country music. However, the album oscillates between a pop/mainstream sound and a more traditionally folksy one, and occasionally shows influences of rock and blues as well. With such country singers as Fred Eaglesmith, Lindsey Haun, Willie Nelson, and of course Toby Keith, fans of the genre should be pleased with this album, but it will most likely lack the variety needed for those who aren\'t particularly attached to this distinctly American style of music.
This is not to say that the album is without highlights that have broader appeal. One such song is the opener, Toby Keith\'s easygoing but wistful "Broken Bridges". The track is notable for Haun\'s vocals serving as a pleasant counterpoint to Keith\'s commanding voice; the singers are backed by strings that add emotion to the already poignant guitar. The jaunty "Along for the Ride" is made distinctive by Matraca Berg\'s particularly melodic voice, while Willie Nelson\'s "Uncloudy Day" is a fun and good-natured country song that features Keith and Bebe Winans as accompanying vocalists. Sonya Isaacs\' gentle yet passionate singing backed by simple instrumentation in "The Battlefield" makes for another memorable album inclusion.
The soundtrack\'s last three songs are all Toby Keith; they also happen to be his most varied and interesting contributions in terms of instrumentation and approach. "Big Bull Rider" is closest than any of the songs on album to hard-edged, straightforward rock, "Zig Zag Stop" displays strong shades of a bluesy rock, and "Jacky Don Tucker (Play By The Rules Miss All The Fun)" has decidedly amusing lyrics and a rollicking tempo. All three songs certainly have their roots in country, but branch out enough to make them palatable to those who don\'t follow this particular genre.
The remaining songs by Keith and the other country singers are mostly by-the-numbers inclusions that water down the collective strength of the highlights. Consequently, the album doesn\'t really deliver that much of a musical knockout. Still, Broken Bridges is certainly a heartfelt and enjoyable album. It may seem limited in range and appeal, but enough talent and quality are there for the open-minded listener as well as the lifelong, die-hard country music fan.
Missing Information?
If any information appears to be missing from this page, contact us and let us know!