Soundtrack Information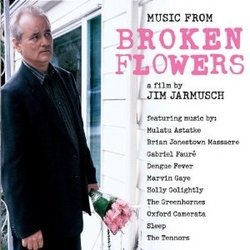 Broken Flowers
Decca Records (B0005150-02)
Release Date: August 2, 2005
Formats: CD, Digital
Music From
Purchase Soundtrack
Track Listing
| | | |
| --- | --- | --- |
| 1. | "There Is An End" - The Greenhornes with Holly Golightly | 3:05 |
| 2. | "Yegelle Tezeta" - Mulatu Astatke | 3:14 |
| 3. | "Ride Your Donkey" - The Tennors | 2:03 |
| 4. | "I Want You" - Marvin Gaye | 3:57 |
| 5. | "Yekermo Sew" - Mulatu Astatke | 4:03 |
| 6. | "Not If You Were The Last Dandy on Earth" - Brian Jonestown Massacre | 2:49 |
| 7. | "Tell Me Now So I Know" - Holly Golightly | 2:02 |
| 8. | "Gubelye" - Mulatu Astatke | 4:35 |
| 9. | "Dopesmoker" - Sleep | 3:57 |
| 10. | "Reuiem, Op. 48 (Pie Jesu) by Gabriel Faure" - Oford Camerata | 3:30 |
| 11. | "Ethanopium" - Dengue Fever | 4:38 |
| 12. | "Unnatural Habitat" - The Greenhornes | 2:08 |
| | Total Album Time: | 40:01 |
Review: Broken Flowers
by Rafael Ruiz
October 22, 2005
3.5 / 5 Stars
Independent film mainstay Jim Jarmusch likes music. Through his two decade career, plenty of musicians have appeared in his films (John Lurie, Tom Waits, Iggy Pop, Screamin\' Jay Hawkins, RZA), often providing the music as well. Jarmusch has been fairly eclectic in his choices, willing to have Neil Young do the music for one film, then letting RZA do the next one.
"Music of the soul," says Winston (Jeffrey Wright) to the perpetually depressed Don (Bill Murray) as he hand him a personal mix CD in the film Broken Flowers. Don listens to this album as he travels the limbos of Middle America. The music on this soundtrack is all over the place. There\'s classical (a Gabriel Faure Requiem), soul (some reliable Marvin Gaye), alternative rock (The Greenhornes) and Ethiopian music. All of it is soulful.
Ethiopian jazz troupe Mulatu Astatke\'s three instrumental tracks ("Yegelle Tezeta", "Yekermo Sew" and "Gubelye") are low-key lounge numbers with a slow dreamy vibe. You can immediately imagine and smoke drifting slowly from slow burning candles in red holders through a dark room. Holly Golightly sings on two tracks ("Tell Me Now So I Know" and the opening credits track ("There Is an End"). An indie-rock singer, Golightly sings in an intriguing 60\'s ballad style (R&B in "There Is an End" and pop in "Tell Me Now So I Know"). Underground Reggae band The Tennors "provides a solid track from a while back ("Ride Your Donkey"). There are several average tracks ("Not If You Were the Last Dandy on Earth", "Dopesmoker"), but none of them keep the album from being one of the cooler release of the year.
Now how can this music fit together? The beauty of idiosyncratic directors like Jim Jarmusch is that you\'re getting a cinematic mix disk of delightful oddities and rarities. The type of stuff that can turn you on to new artists. This release turned me on to Mulatu Astatke and Holly Golightly and I wouldn\'t be surprised if I wasn\'t the only one.
Missing Information?
If any information appears to be missing from this page, contact us and let us know!