Soundtrack Information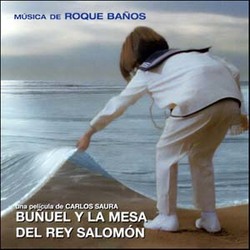 Buñuel y la mesa del rey Salomón
Release Date: December 3, 2001
Format: CD
Music By
Track Listing
1.
Buñuel y la Mesa del Rey Salomón
2.
Sueño con la Mesa
3.
Veo un Niño
4.
Ana María de Zallas
5.
El Judío Errante
6.
Los Anaglifos
7.
El Gran Espejo
8.
En la Sinagoga
9.
La Noche Toledana
10.
Yo M'Enamori Dun Aire (Calle de Buñuel)
11.
Calle de Dalí
12.
Calle de Lorca
13.
La Circuncisión
14.
La Señal (Tristán e Isolda)
15.
Entran en la Gruta
16.
Lago de Sangre
17.
El Pasadizo
18.
El Eremita y el Pozo
19.
Encuentro en la Mesa
Track lengths not available for this album. If you have track length/time information for this album, please e-mail it to us at mail@soundtrack.net and we will add it to the database.
Missing Information?
If any information appears to be missing from this page, contact us and let us know!