Soundtrack Information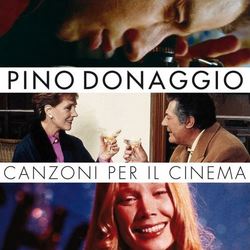 Canzoni per il Cinema
Release Date: December 15, 2015
Conducted by Maurizio Abeni
Performed by
The Bulgarian Symphony Orchestra
Format: CD
Music By
Purchase Soundtrack
Track Listing
1.
Io Che Non Vivo - Elvis: That's The Way It Is
2.
I Colori di Dicembre - Don't Look Now
3.
Il Cane di Stoffa - Viale della canzone
4.
Come sinfonia - L'assassino
5.
I Never Dreamed Someone Like You Could Love Someone Like Me - Carrie
6.
Motivo d'amore - Delitto d'amore
7.
Pera matura - La edad de la violencia
8.
Ruby Rain - Trauma
9.
This Love Is Mine - Cin cin
10.
Una casa in cima al mondo - Scusi lei e' favorevole o contrario?
11.
Why - Don Camillo
12.
Sally and Jack - Blow Out
13.
Io Che Non Vivo - The Boat That Rocked
Track lengths not available for this album. If you have track length/time information for this album, please e-mail it to us at mail@soundtrack.net and we will add it to the database.
From the Manufacturer
For over 55 years, legendary composer Pino Donaggio has been in the forefront of the Italian popular music scene; 40+ years of his career have spanned an impressive line of film scores as well. This orchestral album, Canzoni per il Cinema, is a testament to the composer's versatility, featuring some of his most popular songs for cinema in brand-new orchestral arrangements.
Recorded with The Bulgarian Symphony Orchestra under the baton of Maurizio Abeni, the program—personally selected by Donaggio—focuses on two different types of compositions: it naturally includes some of Donaggio's most beloved theme songs written for movies, but it also includes some of his pre-film-scoring hits that were subsequently used in various films (immortal songs such as "Io che non vivo," "Come sinfonia" or "Una casa in cima al mondo"). The selection thus comprises not only fan favorites, but also some lesser-known pieces that merit a second look in the decades-spanning career of Pino Donaggio.
The album includes a lavishly designed 20-page full-color booklet with liner notes by Pino Donaggio and film music author Gergely Hubai.
Missing Information?
If any information appears to be missing from this page, contact us and let us know!