Soundtrack Information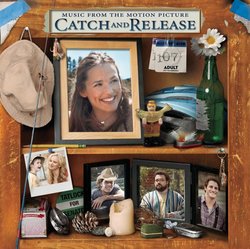 Catch and Release
Legacy Recordings (88697 05852 2)
Release Date: January 23, 2007
Formats: CD, Digital
Music From
Purchase Soundtrack
Track Listing
| | | |
| --- | --- | --- |
| 1. | "Razor" - Foo Fighters | 4:53 |
| 2. | "My Drug Buddy" - The Lemonheads | 2:53 |
| 3. | "A Nest For Two" - Blinker the Star | 4:04 |
| 4. | "Mornings Eleven" - The Magic Numbers | 5:34 |
| 5. | "Pills" - Gary Jules | 2:21 |
| 6. | "Electrified and Rape" - Steve Durand | 3:40 |
| 7. | "The Winding Staircase" - New Radiant Storm King | 4:49 |
| 8. | "Sky Signal" - Audible | 4:36 |
| 9. | "Leaving the Ground" - Peter MacLaggan | 3:58 |
| 10. | "What If You" - Joshua Radin | 4:35 |
| 11. | "These 3 Sins" - Gomez | 2:38 |
| 12. | "Resistance" - Alaska! | 3:55 |
| 13. | "Let the Bad Times Roll" - Paul Westerberg | 3:47 |
| 14. | "Turning Blue" - The Swallows | 4:42 |
| 15. | "What I Done" - Andrew Rodriguez | 4:22 |
| 16. | "Soul Meets Body" - Death Cab for Cutie | 3:52 |
| 17. | "There Goes the Fear" - Doves | 6:55 |
| | Total Album Time: | 71:34 |
Review: Catch and Release
by Matt Millstein
March 5, 2007
3 / 5 Stars
If you like emotional singer/songwriters in the vein of Elliott Smith and Nick Drake, or melodic indie rock like Death Cab for Cutie then the soundtrack to Catch and Release, the recent film starring Jennifer Garner, is for you. With a kind of mopey feel, most of the music is on the sensitive and introspective side. The majority of the bands on the album are newer bands like Gomez and Death Cab for Cutie and a lot I haven\'t heard of. There are also a few old-timers like Foo Fighters and The Lemonheads. I do like a few of the songs by some of the lesser known artists like Blinker the Star and Magic Numbers, but most of the songs on the album don\'t have much distinction. The album has a great flow from song to song, but it is almost too calculated as far as this flow goes. Everything works, there\'s just nothing all that exciting about any of it.
Arguably the two best songs on the album are the first two, both by veteran bands. Foo Fighters start things off with "Razor", a sparse and beautiful song composed of only voice and guitar. Taken from the acoustic disc of the 2005 two-disc album In Your Honor, "Razor" is a really nice sparse and acoustic slow song, further proof of Dave Grohl\'s chops as a singer/songwriter as well as a bandleader. Dave Grohl\'s voice sounds clear and crisp; it is kind of nice to hear him singing and not screaming. Backing up Dave is the deft guitar workmanship of Josh Homme from Queens of the Stone Age. Homme\'s finger-picking style is infectious and very melodic. The second song on the album is "Drug Buddy" from the classic The Lemonheads album It\'s a Shame About Ray. I have always thought The Lemonheads were one of the better Boston bands of the 90\'s, and to me It\'s a Shame About Ray was easily their best output. "Drug Buddy" is a classic example of The Lemonheads in their prime. Evan Dando of The Lemonheads wrote simple and rootsy pop/rock songs with great lyrics. This song is no exception, and it features a great duet with another Boston rock icon Juliana Hatfield singing about the good and bad of drug fueled relationships.
The album has a definite folksy, melodic and traditional/rootsy vibe. There\'s lot\'s of acoustic guitar, some banjo plus plenty of depressing and introspective lyrics and singing indicative of artists like Nick Drake and Elliott Smith. Songs like "Pills" by Gary Jules sound as if they could have been lifted off any one of the later Elliott Smith albums. "These 3 Sins" by British roots rock outfit Gomez is a nice and upbeat addition to this compilation with its bouncy groove and melodic harmonies; this song is a fun little rocker. "Soul Meets Body" the first hit single off of Death Cab for Cutie\'s critically acclaimed Plans album from 2005 is another good component of this album. I have to say that I have always been a sucker for this song. From the first time I heard it I was enraptured. It\'s a perfect piece of sweeping, melodic indie rock, the kind that gets in your head real quick and doesn\'t leave. Both of these songs are fun and buoyant, a nice change from a lot of the more depressing songs on the album.
Overall the soundtrack to Catch and Release isn\'t all that enticing to me; I doubt if I\'ll listen to it that much. Maybe it\'ll grow on me over time. I don\'t know. However, if you are a fan of the soundtrack to Garden State, and any of the Grey\'s Anatomy soundtracks, and/or a fan of indie rock and acoustic singer/songwriters, then you may love this album. I could see it being good as background music, but I just find it kind of bland.
Missing Information?
If any information appears to be missing from this page, contact us and let us know!