Soundtrack Information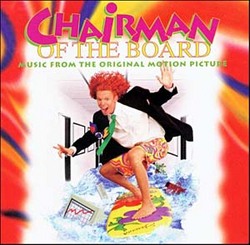 Chairman of the Board
Release Date: February 24, 1998
Formats: CD, Cassette
Music From
Purchase Soundtrack
Track Listing
1.
Ska-La-Carte (The Scofflaws)
2.
Good Times (Sprung Monkey)
3.
Scooter Trash (Hillbilly Soul Surfers)
4.
California Sun (The Ramones)
5.
Reventlo Hayride (The Reventlos)
6.
Hole In The Ground (Penny)
7.
Let's Luau (The Blue Hawaiians)
8.
Tazerguns Mean Big Fun (Man or Astroman?)
9.
Scratchin' An' Twistin' (Hillbilly Soul Surfers)
10.
Spin It (Penny)
11.
Stack Attack (Gary Hoey)
Track lengths not available for this album. If you have track length/time information for this album, please e-mail it to us at mail@soundtrack.net and we will add it to the database.
Missing Information?
If any information appears to be missing from this page, contact us and let us know!