Soundtrack Information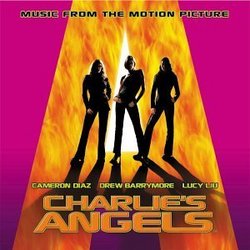 Charlie's Angels
Columbia Records (CK 61064)
Release Date: October 24, 2000
Formats: CD, Digital
Music From
Purchase Soundtrack
Track Listing
| | | |
| --- | --- | --- |
| 1. | Independent Woman Part 1 (Destiny's Child) | 3:40 |
| 2. | Heaven Must Be Missing An (Angel Tavares) | 3:32 |
| 3. | You Make Me Feel Like Dancing (Leo Sayer) | 2:51 |
| 4. | True (Spandau Ballet) | 5:32 |
| 5. | Dot (Destiny's Child) | 3:50 |
| 6. | Baby Got Back (Sir Mix-A-Lot) | 4:21 |
| 7. | Angel Eye's (Aerosmith) | 3:22 |
| 8. | Baracuda (Heart) | 4:22 |
| 9. | Turning Japanese (The Vapors) | 3:42 |
| 10. | Brandy (You're A Fine Girl) (Looking Glass) | 3:22 |
| 11. | Got To Give It Up (Part 1) (Marvin Gaye) | 4:12 |
| 12. | Ya Mama (Fatboy Slim) | 4:29 |
| 13. | Groove Is In The Heart (Deee-Lite) | 3:52 |
| 14. | Charlie's Angels 2000 (Apollo Four Forty) | 3:57 |
| 15. | Tangerine Speedo (Caviar) | 3:19 |
| | Total Album Time: | 58:23 |
Review: Charlie's Angels
by Dan Goldwasser
October 21, 2000
3 / 5 Stars
Yes, it's another one of those movie adaptations from an old television show. But unlike McHale's Navy, Charlie's Angels delivers - with a bang. Cameron Diaz, Drew Barrymore and Lucy Liu kick their way through a collection of baddies that include Crispin Glover in a role that will force me to never look at Back to the Future in the same light. While the film had a punch score by Ed Shearmur, none of his cues appear on the soundtrack album. Rather, a solid collection of songs that appear in the film grace this CD.
Two songs by Destiny's Child are here: "Independent Women Part 1" and "Dot". They are definitely upbeat, and you could tell they were fun to sing. The classic song "Heaven Must Be Missing An Angel" by Taveres makes an appearance at the beginning of the film in a dream dance sequence. Other songs are featured prominently, such as "You Make Me Feel Like Dancing", "True", and "Brandy (You're A Fine Girl)". All of them are recognizable in the film and feel well placed on the album. "Baby Got Back" is used to humorous effect in the film, as are the great riffs from "Barracuda" (although edited to fit the film).
A few songs, however, suffer from the Ghostbusters Syndrome. (The Syndrome comes from the fact that a song on the soundtrack album to Ghostbusters only made an appearance on an extra's headphones as they walked past the camera.) These songs make brief appearances in the film, and don't really deserve to be placed (as full tracks) on the CD. They include "Turning Japanese", "Groove Is In The Heart", and "Tangerine Speedo". Good songs to be sure, but are they necessary for the album?
As one would hope, Apollo Four Forty's "Charlie's Angels 2000" is featured on the album. Used in the trailers and in moments of the film, it's a bunch dance remix of the classic "Charlie's Angels" theme, and is a treat to listen to. With nearly an hour of music on the album it's a fun mix, even though some of the tracks aren't as deserving as others.
Missing Information?
If any information appears to be missing from this page, contact us and let us know!