Soundtrack Information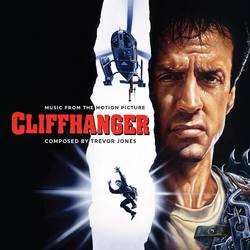 Cliffhanger
Release Date: January 31, 2017
Format: CD
Music From
Music By
Track Listing
Disc 1: Cliffhanger
1.
Cliffhanger Theme
3:52
2.
Sarah's Farewell
2:14
3.
Sarah Falls
4:06
4.
Gabe Returns
3:12
5.
I Understand
1:39
6.
Being Tracked
4:02
7.
Matheson Revives
3:00
8.
Plane Crash
1:49
9.
Two Man Job
2:08
10.
Tolerated Help
2:56
11.
Fetch/Expensive Funeral
6:16
12.
Hal Leads
1:23
13.
Ice Castle
0:46
14.
Sunset Searching/Night Searching
3:52
15.
Face Flare
1:47
16.
Qualen in Hut/Fireside Chat
1:13
17.
Brett's Death/Evan's Dive
4:04
18.
Bats
2:24
19.
Wolves Away/Footbridge
2:33
20.
Gabe's Caught
1:27
21.
Kynette Is Impaled
3:59
22.
Qualen's Time Bomb
1:04
23.
Jessie's Close Call
3:02
24.
Frank's Demise
2:36
25.
Blown Bridge
0:50
26.
Kristel's Sacrifice
2:15
27.
Rabbit Hole
1:34
28.
Delmar Falls
2:28
Disc Time:
72:31
Disc 2: Cliffhanger
1.
Rabbit Surprise
2:57
2.
Icy Stream/Jessie's Release/Hooked Copter/Helicopter Fight
9:35
3.
End Credits (Cliffhanger)
7:21
4.
ORIGINAL SOUNDTRACK RELEASE: Cliffhanger Theme
3:51
5.
Sarah's Farewell
2:14
6.
Sarah Falls
3:51
7.
Gabe Returns
3:12
8.
I Understand
1:39
9.
Sunset Searching
1:20
10.
Tolerated Help
2:56
11.
Base Jump
4:08
12.
Bats
2:24
13.
Two Man Job
2:08
14.
Kynette Is Impaled
4:00
15.
Fireside Chat
0:34
16.
Frank's Demise
2:36
17.
Rabbit Hole
1:34
18.
Icy Stream
1:38
19.
Jessie's Release/Helicopter Fight
5:12
20.
End Credits (Cliffhanger)
7:21
21.
BONUS TRACK: Hooked Copter (stereo album mix)
2:52
Disc Time:
Total Album Time:
73:23
145:54
From the Manufacturer
StudioCanal and La La Land Records are proud to present Trevor Jones' action packed score to Cliffhanger. Long out of print and highly desired, this rip roaring adventurous score was produced by Neil S. Bulk featuring a new stereo mix of the film score from the original digital 3-track masters by Michael McDonald at Private Island Audio. Re-mastered original album, using original, separate stereo mixes is also included on Disc 2. Liner notes by Jeff Bond feature a new interview by director Renny Harlin. Dan Goldwasser delivers a breath taking art design, including cover art by renowned Artist Renato Casaro.
Missing Information?
If any information appears to be missing from this page, contact us and let us know!