Soundtrack Information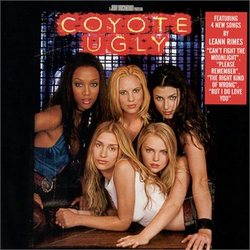 Coyote Ugly
Curb Records (D2-78703)
Release Date: August 1, 2000
Formats: CD, Digital
Music From
Purchase Soundtrack
Track Listing
1.
"Can't Fight The Moonlight (Theme from Coyote Ugly)" - LeAnn Rimes
2.
"Please Remember" - LeAnn Rimes
3.
"The Right Kind of Wrong" - LeAnn Rimes
4.
"But I Do Love You" - LeAnn Rimes
5.
"All She Wants To Do Is Dance" - Don Henley
6.
"Unbelievable" - EMF
7.
"The Power" - Snap
8.
"Need You Tonight" - INXS
9.
"The Devil Went Down To Georgia" - The Charlie Daniels Band
10.
"Boom Boom Boom" - Rare Blend
11.
"Didn't We Love" - Tamara Walker
12.
"We Can Get There" - Mary Griffin
Track lengths not available for this album. If you have track length/time information for this album, please e-mail it to us at mail@soundtrack.net and we will add it to the database.
Review: Coyote Ugly
by Matthew Sheby
December 2, 2004
3.5 / 5 Stars
I wanna rock right now.
I'm Rob Base and I came to get down.
I'm not internationally known,
But I'm known to rock the microphone.

So I have to guess that Jerry Bruckheimer doesn't spend much time in New York, where most waiters and waitresses you'll see are struggling actors. In Manhattan, this means struggling stage (not film) folk, all of whom assert singing, dancing, and acting skills. With this in mind, I'm baffled by the many references in the Coyote Ugly press kit to the "extensive cross-country" cattle call held for the role of Violet Sanford, played by Piper Perabo. See, Jerry picked a girl who couldn't sing—Leann Rimes filled in vocal duties for Violet's character. Despite Piper's effervescent charisma and beauty, I feel cheated. This strange pairing of Curb Records (LeAnn Rimes' label) and the film's producers leads to some interesting observations about the Coyote Ugly soundtrack, which I note below.
The first third of the soundtrack album is made up of Piper Perabo's character's "original" songs, sung by LeAnn Rimes and written by the gifted Dianne Warren. Ignoring my previous rant, the songs are quite decent. "Can't Find The Moonlight" is a serviceable pop tune. "Please Remember" calms the tempo for a country-tinged "slow dance" song, dreaded by boys at middle-school dances everywhere. Aww. "But I Do Love You" has a stronger beat but still has romantic lyrics; "adult contemporary," I believe it's called. The last of the bunch is in a league of its own. In the film, Violet (Piper) is earnestly working at night on the roof of her tenement building with her Casio keyboard, struggling to craft a catchy pop song. Suddenly, she hears a black dude down the block pump some rap out his stereo. Like all influential musicians post-Sousa, she lifts the beats she hears wholesale, without so much as a shout-out to the black guy or the material she "adapted." Touchstone, and hence Disney, tells us it is permissible to steal from others, but not to download MP3s. The events of Coyote Ugly mirror the appropriation of jazz, blues, rock, and rap by white musicians. But I digress. The song she creates in the film, "The Right Kind of Wrong", features cheesy turntableism and synth-sounding electric guitars. Of course, it's the original soundtrack song most likely to appear on the radio; it's very catchy. (It's currently on "repeat" in my CD player.)
The next five songs on the soundtrack are tunes featured in-film as jukebox songs that characters dance to. Don Henley's "All She Wants To Do Is Dance" is great 80's rock. "Unbelievable", the only hit of the UK's EMF, is a classic, danceable tune great for bars and parties. Plus, it samples the bawdy Andrew "Dice" Clay, who is un-Disney as one can get. How rebellious! Zoe (Tyra Banks) exclaimed, "This song is the jam!" in reaction to hearing to Snap's "The Power", a mainstay of my own middle-school musical experience. This song is the jam! Of course, there was only this and "Rhythm is a Dancer" as hits for Snap, but this Euro-dance number is probably retro enough it wouldn't garner laughs on the dance floor. INXS brings us another staple of the eighties in "Need You Tonight". [N.B.: I attended INXS's last concert before Michael Hutchence's untimely demise—great show!] "The Devil Went Down to Georgia", sang the Charlie Daniels Band. In case you've not been acquainted with pop music in the past twenty years, it's a Southern rock/country song that tells the story of the devil and "Johnny" competing for title of "Best Fiddler." It's been a long time since I've heard this song, so I was happy to hear this on the soundtrack.
The remainder of the soundtrack is the weakest. Three songs that were all written or produced by Mike Curb (of Curb Records) have no strong ties to the film. "Boom Boom Boom" is a boy-band song of infantile lyrics sung by Rare Blend, a group of whom I've heard nothing (and hopefully it will stay that way). I'm actually quite peeved that this inane song was put on the soundtrack in lieu of another song used in the film: the classic Rob Base and DJ E-Z Rock "It Takes Two", a staple of early 90's clubs and middle-school dances. "Didn't We Love" is a country song doesn't lean towards the pop world. Though I'm not a fan of the genre, I cannot deny that Tamara Walker has a lovely voice. So does Deborah Harry—who's "One Way or Another" is sang-along by Piper Perabo in the film. I would have liked to hear that on the soundtrack.
Finally, we're presented with "We Can Get There (TP2K Hot Radio Mix)" sung by Mary Griffin and written by Mike Curb. This song presents a dilemma: is a remix a remix if people haven't heard the original? It's a serviceable dancehall tune, but nothing booty-shakingly spectacular. Used in the film, however, is the "Battle Flag (Lo-Fidelity Allstars Remix)" performed by Pigeonhed, which I would have much rather have heard on the disk.
So though two-thirds of the songs on the disk are "good," I feel that the album's producers squandered many opportunities (no-name boy-band or Def Leppard—hmm). It's probably a four-star album for country lovers and three-star or so for pop and rock fans, so I'll split the difference and call it three-and-one-half out of five.
Missing Information?
If any information appears to be missing from this page, contact us and let us know!