Soundtrack Information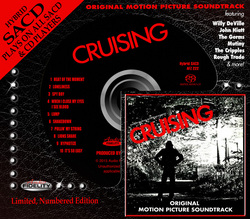 Cruising - Hybrid SACD
Limited Edition
Audio Fidelity (AFZ 222)
Release Date: November 27, 2015
Format: CD
Music From
Purchase Soundtrack
Track Listing
1.
Heat Of The Moment (Willy DeVille)
2.
Loneliness (The Cripples)
3.
Spy Boy (John Hiatt)
4.
When I Close My Eyes I See Blood (Madelynn Von Ritz)
5.
Lump (Mutiny)
6.
Shakedown (Rough Trade)
7.
Pullin' My String (Willy DeVille)
8.
Lions Share (Germs)
9.
Hypnotize (The Cripples)
10.
It's So Easy (Willy DeVille)
Track lengths not available for this album. If you have track length/time information for this album, please e-mail it to us at mail@soundtrack.net and we will add it to the database.
From the Manufacturer
Available on Compact Disc for the First time! The controversial 1980 film Cruising has become an underground cult classic. One of the best parts of the film is the amazingly gritty soundtrack. The music was scored and compiled by Academy Award-winner Jack Nitzsche also known as the "Wall of Sound" arranger on Phil Spector's hits.
Most of the songs on the soundtrack are a mix of rock, glam and disco music and full of an anxious energy. They complement the movie action and the S&M bar setting extremely well and offer a glimpse of an un-idealized 70's gay scene. The tracks are performed by various punk, P.Funk, rock, pop and soul artists including Willy DeVille, John Hiatt, Rough Trade, The Cripples and several raw and dirty cuts by proto punks The Germs.
Missing Information?
If any information appears to be missing from this page, contact us and let us know!