Soundtrack Information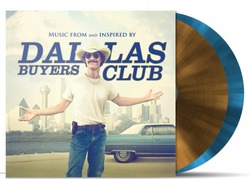 Dallas Buyers Club - Vinyl Edition
Music On Vinyl (MOVLP1083)
Release Date: April 14, 2014
Format: Vinyl
Music From
Purchase Soundtrack
Track Listing
Disc 1: Dallas Buyers Club
1.
SIDE A: Sweet Thank (Shuggie Otis)
2.
Following Morning (The Naked and Famous)
3.
Hell and Back (The Airborne Toxic Event)
4.
Ready to be Called On (My Morning Jacket)
5.
SIDE B: Life of the Party (Blondfire)
6.
The Walker (Ryeland Allison Remix) (Fitz and the Tantrums)
7.
Shudder to Think (Tegan and Sara)
8.
Mad Love (Acoustic) (Neon Trees)
Disc 2: Dallas Buyers Club
1.
SIDE C: Main Man (Portugal. The Man)
2.
Stayin' Alive (Capital Cities)
3.
Romance Languages (Cold War Kids)
4.
Burn it Down (Ninerpartystystem Remix) (Awolnation)
5.
SIDE D: After the Scripture (Manchester Orchestra)
6.
City of Angels (Acoustic) (Thirty Seconds to Mars)
7.
Main Man (T. Rex)
8.
Life is Strange (T. Rex)
Track lengths not available for this album. If you have track length/time information for this album, please e-mail it to us at mail@soundtrack.net and we will add it to the database.
From the Manufacturer
The soundtrack to triple Academy Award-winning feature film Dallas Buyers Club contains songs by Shuggie Otis, My Morning Jacket, T. Rex and actor/singer Jared Leto's Thirty Seconds To Mars. The first 1000 copies of this double LP are uniquely pressed on Gold and Blue vinyl—each record a different colour!
180 gram audiophile vinyl.
Gatefold sleeve
Insert

Missing Information?
If any information appears to be missing from this page, contact us and let us know!