Soundtrack Information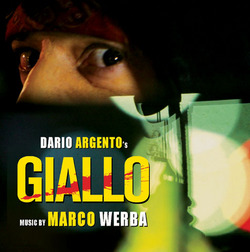 Dario Argento's Giallo
Promotional Release - 500 Copies Produced
Kronos (KRONPROMOCD001)
Release Date: October 26, 2010
Format: CD
Music From
Music By
Track Listing
| | | |
| --- | --- | --- |
| 1. | Main Titles | 2:14 |
| 2. | Kidnapping | 1:00 |
| 3. | Taxi Killer | 2:11 |
| 4. | Love Theme (Linda's Theme) | 1:32 |
| 5. | Killer 1 | 1:23 |
| 6. | Trapped In The Taxi | 2:01 |
| 7. | Conversation | 3:19 |
| 8. | Killer2 | 2:02 |
| 9. | Taxi Shadowing | 2:38 |
| 10. | Avolvi's Theme | 1:48 |
| 11. | Killer 3 | 0:59 |
| 12. | The Shower | 1:32 |
| 13. | The Butcher | 1:26 |
| 14. | The Killer's House | 6:43 |
| 15. | Flashback | 3:18 |
| 16. | Killer 4 | 1:12 |
| 17. | The Russian Girl | 0:46 |
| 18. | The Killer's Childhood | 3:16 |
| 19. | The Victim Talks | 1:13 |
| 20. | Killer 5 | 1:50 |
| 21. | Enzo And Linda | 3:59 |
| 22. | Killer's Escape | 1:03 |
| 23. | The Surgeon/Police | 4:49 |
| 24. | Meeting With The Killer | 1:18 |
| 25. | The House (Linda's Theme) | 1:18 |
| 26. | Killer's Death | 3:49 |
| 27. | Celine In The Boot | 1:32 |
| 28. | End Titles | 1:40 |
| 29. | BONUS TRACKS: Giallo's Theme - Rock Version | 3:57 |
| 30. | BONUS TRACKS: Giallo's Theme - Music Demo (Not Used in Film) | 1:43 |
| | Total Album Time: | 67:31 |
From the Manufacturer
This work which unfortunately was never available for sale. It is another work by Marco Werba, his grand score for Horror Maestro Dario Argent's Giallo. The CD was made into a promotional relaease for the composer. I would like to thank everyone who showed interest in this release, actually an immense interest howeveruntil this very moment it is still not possible to produce this cd for the general public.
Missing Information?
If any information appears to be missing from this page, contact us and let us know!