Soundtrack Information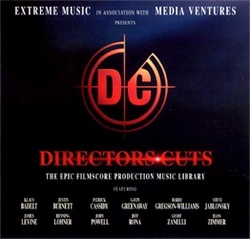 Directors Cuts - Audio Trailer
Extreme Music (DCD001)
Release Date: 2001
Format: CD
Music By
Purchase Soundtrack
Track Listing
| | | |
| --- | --- | --- |
| 1. | Trailer | 1:56 |
| 2. | Action - Victory Quest | 1:19 |
| 3. | Action - Mission Objective | 1:51 |
| 4. | Action - Celluloid Hero | 1:45 |
| 5. | Action - Power Struggle | 3:21 |
| 6. | Romance - Turning Point | 2:56 |
| 7. | Romance - Cold Comfort | 3:56 |
| 8. | Romance - Forget-Me-Not | 2:33 |
| 9. | Romance - Stargazing | 2:13 |
| 10. | Romance - Sweet Serenity | 2:00 |
| 11. | Epic Themes - Poetic Justice | 1:48 |
| 12. | Epic Themes - Full Force | 2:29 |
| 13. | Epic Themes - Liberty | 2:27 |
| 14. | Epic Themes - Pyrrhic Spirit | 3:05 |
| 15. | Epic Themes - Rough Justice | 2:50 |
| 16. | Epic Themes - Eternal Bliss | 1:28 |
| 17. | Chiller - Doom Raider | 1:39 |
| 18. | Fantasy - Sonic Psychosis | 4:24 |
| 19. | Chiller - After Dark | 2:16 |
| 20. | Chiller - Creepfest | 1:19 |
| 21. | Dramedy - Organic Planet | 1:08 |
| 22. | Epic Themes - Drums of Navarone | 2:39 |
| 23. | Drama - 8th Wonder | 1:00 |
| 24. | Tragedy - Promised Land | 1:56 |
| 25. | Drama - First Flight | 5:05 |
| 26. | Drama - Trailblazing | 2:53 |
| 27. | Drama - Lost Souls | 1:21 |
| 28. | Drama - Deep Heat | 2:07 |
| 29. | Suspense - Chillusion | 1:46 |
| 30. | Tension & Suspense - Dead Calm | 1:23 |
| 31. | Ambiance - Extra Sensory | 0:59 |
| 32. | Tension & Suspense - Final Verdict | 2:12 |
| 33. | Tension & Suspense - Shadowplay | 1:46 |
| 34. | Tension & Suspense - Manhunt | 0:43 |
| | Total Album Time: | 74:33 |
Review: Directors Cuts - Audio Trailer
by Matt Barry
March 6, 2004
3 / 5 Stars
Well, it was bound to happen sometime: producers having the ability to buy pre-composed film scores in bulk quantities. It's been a hot-button topic amidst film score cognoscenti since it first came up late last year. Honestly, we all must know that the truth is this has happened before. It was called library music, and it was more than commonplace in Hollywood's Golden Age and well beyond. But now that Extreme Music has teamed with Hans Zimmer's Media Ventures crew to peddle to the public (and I quote) "the real sound of the epic blockbuster filmscore", those dusty old library cues are looking for a whole new kind of respectability. And royalties. So while my wheat side bristles at such brash commercialism, my frosted side applauds the ingenuity of the folks who thought this whole stunt up.
This first sampler of the forthcoming production music library – aptly titled "Audio Trailer" - gives the listener a taste of some of Hans Zimmer's lesser-known (but often no less talented) stable of composers. The results are something of a mixed bag, as you'd expect from so many different musicians and represented genres. But there are gems hiding in here, and any fan of Zimmer and company should drool to get their hands on this seventy minute monster.
The album is subdivided into individual genres, a handful of tracks given over to each, beginning with "Action". Gavin Greenaway's (whom they really seem to be pushing here, with almost fifteen minutes of the runtime dedicated to his tracks) "Celluloid Hero" gets a pretty stirring bit of hunt-and-creep excitement going. And in three and a half minutes, Klaus Badelt's "Power Struggle" manages to feel like an entire Media Ventures action score, replete with an anthemic main title, pulsing percussion and crashing synth brass hits.
"Romance" presents, among others, Henning Lohner's "Turning Point". It's suitably lovely, but sounds more like a breezy, fuzzy rewriting of Zimmer's "Earth" theme from Gladiator – and makes me wonder what movies some of these pieces may have been originally composed for. James S. Levine's "Forget-Me-Not" is crippled by its reliance on synth piano and pads, ultimately sounding like chintzy soap opera wallpaper. But "Stargazing" by Harry Gregson-Williams builds a delicate and warm melody only to clobber it in the last few seconds of the track – I chuckled out loud, because I had pictured two young lovers doing what the title track suggests, then being promptly flattened by a falling safe. (Rest in peace, Mr. Chuck Jones. We'll miss you.)
On to "Epic Themes" - ah yes, here we are – the Media Ventures team's bread and butter! John Powell's "Full Force" shows why he is the latest company upstart, evincing a keen ear for structure while never losing his adrenalized edge. Too bad it has to be so short. It's quite exciting, and one of the best tracks on the disc. "Eternal Bliss", on the other hand, is saddled with a backbeat that bends my thoughts towards an 80's movie love montage. Probably not what he was going for. Papa Zimmer's sole contribution to this sampler is "Liberty", a cross between a dreamy synth loop and a wordless female vocal, and its strong lyricism really demonstrates why Hans (and not Tony Danza) is the boss. Even Patrick Cassidy (who wrote the opera sequence from Hannibal) gets one chance to make an impression with this disc, and it's the eminently hummable and ennobling "Pyrrhic Spirit".
Next up is "Chiller", and it is overloaded with creepy rumblings but little to sink your teeth into. Blink, and you'll miss Geoff Zanelli's "Doom Raider", but it's followed by John Powell's lengthy (for this disc, at least) "Sonic Psychosis". Gavin Greenaway's "After Dark" and "Creepfest" are finely crafted as well, but really nothing terribly memorable.
"World Flavours" fares much better. In fact, the sequencing people kinda screwed up here – most of the best music on "Audio Trailer" is towards the end of the disc. Powell's "Organic Planet" is perfect Enya-esque trailer music for the next big Hollywood star that wants to make a picture drawing analogies between themselves and Jesus (e.g. Travolta's Phenomenon or Spacey's K-Pax). And Zanelli's "Drums Of Navarone" is capably pumped-up, as are Gregson-Williams' epic-scale "8th Wonder" and "Promise Land".
With "Drama", Klaus Badelt gets a lengthy dramatic showpiece with "First Flight", and his collective contributions to the proceedings make me eager to hear his upcoming breakthrough score to The Time Machine. Steve Jablonsky's militaristic "Trailblazing" creeps up on you, using the same rising structure of Zimmer's trailer mainstay "Journey To The Line" from The Thin Red Line. (If memory serves, this Jablonsky track was used to promote Pearl Harbor.) And Greenaway once again shows some versatility and a distinctive voice with the flamenco flavors of "Deep Heat", but "Chillusion" is unfortunately another big orchestral piece undercut by a bank of cheap-sounding synths.
Finally, Powell's brief but memorable "Extra Sensory" is one of the crystalline high points of the last subcategory, "Tension & Suspense". The rest, as the genre would indicate, are not strong with regards to thematic material, instead focusing on some potent atmospherics.
Overall, "Audio Trailer" suffers the same fate of other such samplers – this often-fragmented presentation is not the way our minds are trained to listen to and enjoy music. And while one could argue that since this is a production music library such cohesion is relatively unnecessary, it might have made a more compelling case for the thorny issue of prepackaged film scores.
Missing Information?
If any information appears to be missing from this page, contact us and let us know!