Soundtrack Information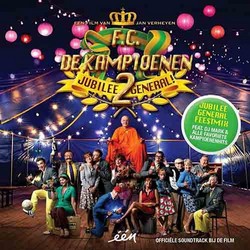 F.C. De Kampioenen 2: Jubilee general
Release Date: October 30, 2015
Format: Digital
Music From
Track Listing
Disc 1: F.C. De Kampioenen 2: Jubilee general
1.
Themalied (Fous Son Les Garçons Remix) (FC De Kampioenen)
2.
When It Comes To Love (Regi & Lester Williams FT Patti Russo)
3.
Summerjam (DJ F.R.A.N.K.)
4.
Love Me (Daniel Bovie & Roy Rox Feat. Nelson)
5.
Mooi 't Leven Is Mooi (Will Tura)
6.
Het Is Weer Couckenbak (FSLG Remix) (Steve Tielens)
7.
Fireball (Pitbull)
8.
Love Generation (Bob Sinclar)
9.
Que Sera Mi Vida (Gibson Brothers)
10.
Basketsloefkes (Sam Gooris)
11.
She's After My Piano (2 Fabiola)
12.
Una Paloma Blanca (George Baker Selection)
13.
Viva De Romeo's (De Romeo's)
14.
Waar Is Da Feestje (Pitaboys)
15.
Carnaval De Paris 2014 (Fous Sont Les Garcons)
16.
Lacht Nor Mij (Slongs Dievanongs)
17.
Sexy Als Ik Dans (Nielson)
18.
Ai Se Eu Te Pego (Michel Telo)
19.
Are You With Me (Lost Frequencies)
20.
En Dans (Clouseau)
21.
Never Alone (DJ Rebel)
22.
Aaa Anthem (Regi & BP)
23.
Gangnam Style (Psy)
24.
Waka Waka (Shakira)
25.
Mooi Is Het Leven (Jo Vally)
26.
Laat De Zon In Je Hart (Willy Sommers)
27.
Sweet Caroline (Christoff)
28.
Cheerleader (Omi)
Disc 2: F.C. De Kampioenen 2: Jubilee general
1.
Themalied (F.C. De Kampioenen)
2.
You're The First, The Last, My Everything (Barry White)
3.
Sing Hallelujah (Dr Alban)
4.
Proud Mary (Ike & Tina Turner)
5.
Play That Funky Music (Wild Cherry)
6.
Ik Ben Zo Eenzaam Zonder Jou (Will Tura)
7.
Scatman (Scatman John)
8.
To Brazil (Miami Rockers)
9.
Allemaal (Wim Soutaer)
10.
Dos Cervezas (Tom Waes)
11.
K Zie Zo Gere Mijn Duivenkot (Bobbejaan Schoepen)
12.
Zomersproetjes (Rocco Granata)
13.
Santé Santé (Balthazar Boma)
14.
If I Were A Rich Man (Roger Whittaker)
15.
Als Een Leeuw In Een Kooi (Willy Sommers)
16.
Drums Gaan Boem (K3)
17.
Vrienden Voor Het Leven (De Romeo's)
18.
Hey Pa (Niels Destadsbader)
19.
Kampioenen Jubilée (The Championettes)
Track lengths not available for this album. If you have track length/time information for this album, please e-mail it to us at mail@soundtrack.net and we will add it to the database.
Missing Information?
If any information appears to be missing from this page, contact us and let us know!