Soundtrack Information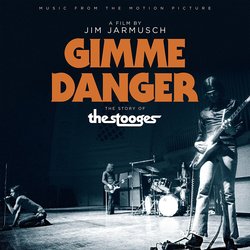 Gimme Danger
Release Date: January 13, 2017
Formats: CD, Digital, Vinyl
Music From
Track Listing
| | | |
| --- | --- | --- |
| 1. | Gimme Danger (Bowie Mix) (Iggy & The Stooges) | 3:29 |
| 2. | No Fun (Remastered) (The Stooges) | 5:18 |
| 3. | I Wanna Be Your Dog (Remastered) (The Stooges) | 3:12 |
| 4. | 1969 (Remastered) (The Stooges) | 4:09 |
| 5. | Little Doll (Remastered) (The Stooges) | 3:24 |
| 6. | Down On The Street (The Stooges) | 3:46 |
| 7. | Loose (The Stooges) | 3:36 |
| 8. | I Got A Right (Outtake from Early Aborted 'Raw Power' Session) (Iggy & The Stooges) | 2:50 |
| 9. | I'm Sick Of You (Outtake from Early Aborted 'Raw Power' Session) (Iggy & The Stooges) | 6:53 |
| 10. | Ramblin' Rose (MC5) | 4:18 |
| 11. | Again & Again (The Iguanas) | 2:21 |
| 12. | I'm A Man (Prime Movers Blues Band) | 2:47 |
| 13. | Lost In The Future (Take 1) (The Stooges) | 5:52 |
| 14. | Asthma Attack (The Stooges) | 6:28 |
| | Total Album Time: | 58:23 |
From the Manufacturer
Rhino offers the perfect complement to the film with Gimme Danger: Music from the Motion Picture. The digital and CD versions include 14 songs that focus on the group's first three studio albums – The Stooges, Fun House, and Iggy and The Stooges' Raw Power—and feature band members Iggy Pop, Ron and Scott Asheton, Dave Alexander, and James Williamson. Slightly truncated, the LP version features Stooges songs and has a selection of tracks previously only available on CD and digital formats, including the vinyl debut of the outtake "Lost In The Future."

Both Jarmusch and Pop helped select songs for the soundtrack, which mixes indelible studio recordings ("I Wanna Be Your Dog," "1969" and "Loose") with rare studio outtakes ("I Got A Right," "I'm Sick Of You" and "Asthma Attack.") Fellow Detroit natives MC5 make an appearance on the collection as well with "Ramblin' Rose" from the group's 1969 debut, Kick Out The Jams. The oldest songs on the collection pre-date The Stooges and spotlight Pop with his previous bands, the Iguanas ("Again And Again") and Prime Movers Blues Band ("I'm A Man").
Missing Information?
If any information appears to be missing from this page, contact us and let us know!