Soundtrack Information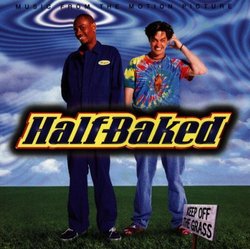 Half Baked
MCA (MCD 11723)
Release Date: January 13, 1998
Formats: CD, Cassette
Music From
Purchase Soundtrack
Track Listing
1.
Along Comes Mary (Bloodhound Gang)
2.
Virgin Girls (Smash Mouth)
3.
Love That's Real Suite (Luscious Jackson)
4.
We Are Dumb (Home Grown)
5.
Marbles (Why You Say Yes...?) (Black Grape)
6.
Seasons Change (Days of the New)
7.
Farmyard Connection (The Specials)
8.
The Pusher (Cowboy Mouth)
9.
We Know (DJ Milo and Tricky)
10.
(I'm In Love with You) Mary Jane (Coolio)
11.
I Get Lifted (UB40)
12.
Who's Got the Light? (Cibo Matto)
13.
Flyin' (Tom Tom Club and Nonchalant)
14.
Pack the Pipe (The Pharcyde)
Track lengths not available for this album. If you have track length/time information for this album, please e-mail it to us at mail@soundtrack.net and we will add it to the database.
Missing Information?
If any information appears to be missing from this page, contact us and let us know!