Soundtrack Information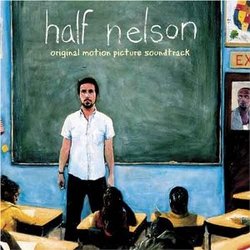 Half Nelson
Lakeshore Records (LKS 338702)
Release Date: August 8, 2006
Formats: CD, Digital
Music From
Purchase Soundtrack
Track Listing
| | | |
| --- | --- | --- |
| 1. | "Stars & Sons" - Broken Social Scene | 5:09 |
| 2. | "Evacuation" - The Somnambulants | 4:12 |
| 3. | "Wanted" - Rhymefest featuring Samantha Ronson | 3:27 |
| 4. | "Black Hearts" - Remy Balon | 3:18 |
| 5. | "A New England" - Billy Bragg | 2:14 |
| 6. | "The Corner" - Saigon | 4:20 |
| 7. | "Shampoo Suicide" - Broken Social Scene | 4:07 |
| 8. | "NA NI NA" - Conjunto Cespedes | 5:21 |
| 9. | "Just Begun" - Blak and King Honey | 4:30 |
| 10. | "Sometimes" - Dujeous | 4:30 |
| 11. | "It's Alright to Cry" - Rosey Grier | 2:25 |
| 12. | "Can't You See" - The Marshall Tucker Band | 6:03 |
| 13. | "Da Da Dada" - Broken Social Scene | 7:10 |
| | Total Album Time: | 56:46 |
Music Used in Trailers
Theatrical Trailer
"Shampoo Suicide" Half Nelson (2006) - Broken Social Scene
"Stars and Sons" Half Nelson (2006) - Broken Social Scene
Review: Half Nelson
by John Merriman
August 22, 2006
2.5 / 5 Stars
Obviously enough, when it comes to compilation albums connected to film releases, the enjoyment of the album rests squarely in the song selection and sequencing. The soundtrack for Garden State comes to mind as a fairly recent example of when the selection and order of the music are both very much successful: not only are the songs distinctly memorable listens individually, but they each blend perfectly with one another for a unified effect. Unfortunately, the same cannot be said for the album for Half Nelson, which although presents an interesting and eclectic mix of rap/hip-hop, rock, folk, and Latin, is an overall uneven release hindered by several jarringly out-of-place songs.
The album gets off to a good enough start with the first of three contributions by Broken Social Scene, called "Stars & Sons". The somewhat incoherent but intriguing vocals lead into a cacophony of overproduced noise and effects that don\'t offer an appropriate enough conclusion to the prior catchy rhythms. Next up is "Evacuation" by The Somnambulants, which has a similar tempo and rhythm as "Stars & Sons", although with clearer but more stilted vocals, followed by Rhymefest\'s "Wanted", featuring Samantha Ronson. The strengths in this song lie in the descriptive lyrics and a simple but effective four-note refrain set to the words "Man on the run". The mood becomes considerably more soothing with the folksy "Black Hearts" by Remy Balon, featuring soft vocals driven by a gently persistent acoustic guitar.
Beginning with the inclusion of Billy Bragg\'s misplaced "A New England", the album loses its grasp on consistency of tone. This song awkwardly leads into a slightly more conventional rap/hip-hop song, Saigon\'s "The Corner". Broken Social Scene\'s second track, "Shampoo Suicide", follows next and features some interesting instrumentation but not enough development considering all the simultaneous layers of music. Conjunto Cespedes\' "NA NI NA" is an enjoyable Latin inclusion characterized by shifts in tempo and festive horns, which is followed by another poor transition into the more studio-produced sound of "Just Begun" by Blak and King Honey. "Sometimes" by Dujeous contains vocals and lyrics that are more arresting than the previous two rap/hip-hop songs, and is followed by the bizarre inclusion of Rosey Grier\'s "It\'s Alright to Cry". Next is The Marshall Tucker Band\'s "Can\'t You See", a pleasing blend of rock and country that features nice piano work. Finally, the album concludes with Broken Social Scene\'s third contribution, "Da Da Dada", an instrumental piece that simply comes out of left field with its emphasis on meandering ambient electronic effects.
For the most part, the album does a decent job of placing you in the urban context of the film\'s New York City setting. It\'s not hard to imagine most of this music floating from the window of a Brooklyn apartment, and that\'s an evocative image to have in your mind when listening to the album. However, this release is likely to be of main interest to those who have enjoyed seeing the film, as the uneven presentation and song selection result in an awkward compilation for any casually interested listener.
Missing Information?
If any information appears to be missing from this page, contact us and let us know!