Soundtrack Information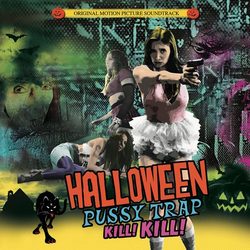 Halloween Pussy Trap Kill! Kill!
Release Date: October 2017
Format: CD
Music From
Purchase Soundtrack
Track Listing
Disc 1: Halloween Pussy Trap Kill! Kill!
1.
Dead On Arrival (Edit) (Jyrki 69)
2.
Last Halloween (Jyrki 69)
3.
Superstar (Kill! Pussy! Kill!)
4.
Coming Up (Eyes Open) (Alan Davey)
5.
Motion Picture Dream Boy (Descartes A Kant)
6.
Weed Life (Afroman)
7.
Here To Bleed (Adoration Destroyed)
8.
Sister, Please (Egrets On Ergot)
9.
Highway 666 (Reverend KM Williams)
10.
Greyed (Danny Saber Mix) (Bestial Mouths)
11.
Enter If You Dare
12.
Shutdown (3Teeth)
Disc 2: Halloween Pussy Trap Kill! Kill!
1.
Sleepwalker (The Anix)
2.
This Is The Strangest Love I've Ever Seen (Doug Kershaw)
3.
Noise (Inhalt)
4.
Nose Candy (Klute)
5.
Tin Can Tomb (WMX Remix) (Grypt)
6.
Too Much, Too Soon (Dazed Marrow)
7.
Haunterlude (Myrrh Ka Ba)
8.
Tabula Umbra (3Teeth)
9.
Occupations (Xultur Remix) (Inhalt)
10.
Happy Hunting
11.
Road Stop
12.
Every Day Is Halloween (Ministry)
Track lengths not available for this album. If you have track length/time information for this album, please e-mail it to us at mail@soundtrack.net and we will add it to the database.
Missing Information?
If any information appears to be missing from this page, contact us and let us know!