Soundtrack Information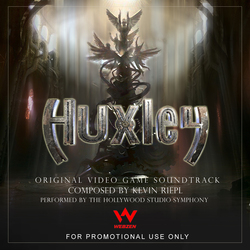 Huxley
Promotional Release
Release Date: April 13, 2008
Conducted by Tim Simonec
Performed by
The Hollywood Studio Symphony
Format: CD
Music By
Track Listing
1.
Main Theme

[previewing track]

4:03
2.
Character Creation

[previewing track]

2:31
3.
Nostalonia Theme

[previewing track]

5:24
4.
Nostalonia Military

[previewing track]

2:05
5.
Eska Theme

[previewing track]

6:05
6.
Eska Military

[previewing track]

2:05
7.
Battle Zone Europe

[previewing track]

3:15
8.
Battle Zone Fjords

[previewing track]

3:01
9.
Battle Zone Archipelago

[previewing track]

2:18
10.
Sapiens Sewers

[previewing track]

2:49
11.
Low Health

[previewing track]

1:15
12.
Mission Complete

[previewing track]

1:04
13.
Mission Failed

[previewing track]

1:04
14.
Boss Appearance A

[previewing track]

0:24
15.
Boss Appearance B

[previewing track]

0:30
16.
Boss Fight

[previewing track]

2:04
17.
Sapiens Closed Area

[previewing track]

3:12
18.
Alternatives Sewers

[previewing track]

3:39
19.
Alternatives Closed Area

[previewing track]

3:08
20.
Radioactive

[previewing track]

2:31
21.
Eska Islamic Town

[previewing track]

2:11
22.
Boss Battle

[previewing track]

2:14
23.
Nostalonia China Town

[previewing track]

2:10
24.
Spot Public Ad

[previewing track]

0:55
Total Album Time:
59:57
Review: Huxley
by Thomas Simpson
May 27, 2008
3.5 / 5 Stars
Video game scoring is different than cinematic scoring. When I think of cinematic scores, I feel as though they are through-composed, with character motives sprinkled at different points to give the audience an emotional impact and general concept of the film. Video game scores need to be fresh, and the tracks need to have replay value that will not cause aural fatigue to the gamer.
As with some games, the same short piece of music cycles through and instead of enjoying what you are hearing you began to be bothered by it... At which point you just mute it and enjoy the piece and quiet. So imagine my pleasant surprise when Soundtrack.net was sent the promo for Huxley and I gave it a good listen.
Compared to other gaming scores, Huxley has a well written score, one with a good deal of replay worth. I especially enjoyed \"Eska Theme\" with its moving rhythm and solid constructed orchestration with brass and strings playing off each others strengths. The addition of subtle vocals within the lengthy track make it engaging, and though I have not played the game itself, I have a strong feeling that I would be caught with my hand in the cookie jar so to speak listening to the music and not shooting some hapless foe as it were.
With \"Eska Theme\" the rhythm made me tap my foot, which is a good indication if anything of just how well Kevin Riepl wrote the music. Another thing I enjoyed about this particular track was the cello lines. The cello has a beautiful timbre, and Riepl shows that no matter the medium, cellos really can bring a sadness and shine to a piece of music. The mourning cello can also be heard in the track, \"Sapien Closed Area,\" which is a rather wonderful track in and of itself.
One track I would like to point out that had me bobbing my head through out the piece was, \"Battle Zone Europe\". At the beginning of the track there are some high spirited winds at play and a solid rhythm section that only get more creative as the track plays through.
One way that Riepl infuses \"Battle Zone Europe\" with creative percussion is not relying on lower end drums but the quirky high hat. Having been a fan of Jazz drumming for a good part of my life I enjoy good drum licks that involve complicated rhythms on the high hat. Midway through \"Battle Zone Europe\" listen for it, you won\'t be disappointed. Another section of the track I enjoyed was the trumpet lines, they are fun and fast really moving the piece in a mad dash towards the ending.
In complete opposition of the lush scoring, and regional influences for the stages are the more electronic based tracks, which the majority can be heard at the end of the disc, and though I would rather listen to the orchestral tracks, the drums and odd sounds utilized on the electronic pieces are still worthy of a listen, as the whole album has a lot to offer.
With Huxley being my first taste of Kevin Riepl, it was a fine sampling, if its any indication of what Riepl has to offer in future projects, the listeners of the music will not be disappointed. I think for fans of game scores, Huxley is worth a trip to the record store or iTunes or wherever you purchase your music from.
Missing Information?
If any information appears to be missing from this page, contact us and let us know!