Soundtrack Information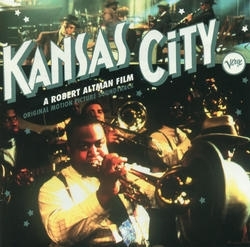 Kansas City
Release Date: May 7, 1996
Format: CD
Music From
Purchase Soundtrack
Track Listing
1.
Blues In The Dark - James Carter/Joshua Redman
2.
Moten Swing - Jesse Davis/James Carter
3.
I Surrender Dear - James Carter/Nicholas Payton/Cyrus Chestnut
4.
Queer Notions - David Murray/Russell Malone/Cyrus Chestnut
5.
Lullaby Of The Leaves - Jesse Davis/Clark Gayton/Geri Allen
6.
I Left My Baby - Mark Whitfield/David 'Fathead' Newman/Craig Handy/Curtis Fowlkes
7.
Yeah, Man - Craig Handy/Joshua Redman
8.
Froggy Bottom - Geri Allen/David 'Fathead' Newman/Mark Whitfield
9.
Solitude - Joshua Redman
10.
Pagin' The Devil - Don Byron/Olu Dara/Clark Gayton
11.
Lafayette - Nicholas Payton/James Zollar/Olu Dara
12.
Solitude (Reprise) - Don Byron/Christian McBride/Ron Carter
Track lengths not available for this album. If you have track length/time information for this album, please e-mail it to us at mail@soundtrack.net and we will add it to the database.
Missing Information?
If any information appears to be missing from this page, contact us and let us know!