Soundtrack Information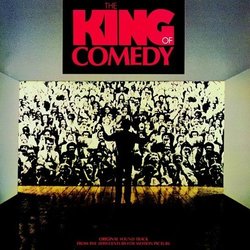 King of Comedy
Release Date: 1983
Formats: CD, Cassette, Vinyl
Music From
Purchase Soundtrack
Track Listing
1.
Back on the Chain Gang (Pretenders)
2.
Tain't Nobody's Bizness (If I Do) (B.B. King)
3.
Swamp (Talking Heads)
4.
King of Comedy (Bob James)
5.
Rainbow Sleeve (Rickie Lee Jones)
6.
Between Trains (Robbie Robertson)
7.
Steal the Night (Ric Ocasek)
8.
Come Rain or Come Shine (Ray Charles)
9.
The Finer Things (David Sanborn)
10.
Wonderful Remark (Van Morrison)
Track lengths not available for this album. If you have track length/time information for this album, please e-mail it to us at mail@soundtrack.net and we will add it to the database.
Missing Information?
If any information appears to be missing from this page, contact us and let us know!