Soundtrack Information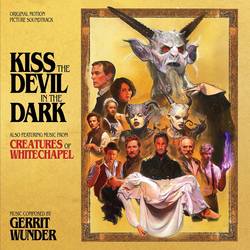 Kiss the Devil in the Dark / Creatures of Whitechapel
Release Date: February 10, 2017
Format: CD
Music By
Track Listing
| | | |
| --- | --- | --- |
| 1. | KISS THE DEVIL IN THE DARK: Opening | 1:43 |
| 2. | Let Her Live | 2:29 |
| 3. | Dragged to Hell / Titles | 1:00 |
| 4. | Preparations | 4:51 |
| 5. | Vanessa | 1:18 |
| 6. | Keepers of Secrets | 2:12 |
| 7. | We Wake Thee | 1:11 |
| 8. | There Is No God | 2:35 |
| 9. | All This for Her | 1:30 |
| 10. | To the Last Man | 1:06 |
| 11. | I Have Long Wanted Your Blood | 2:45 |
| 12. | Love Is a Lie | 3:56 |
| 13. | I'll Come Back for Them | 1:06 |
| 14. | End Credits | 2:46 |
| 15. | CREATURES OF WHITECHAPEL: Creatures of Whitechapel | 1:41 |
| 16. | London 1888: Jack the Ripper | 2:52 |
| 17. | Bring Me a Heart | 3:22 |
| 18. | Dinner for Two | 4:05 |
| 19. | Streets of London / Capturing Mary | 3:03 |
| 20. | Frankenstein's Laboratory | 3:34 |
| 21. | Love Remembers | 2:16 |
| 22. | Sonata for Harpsichord | 3:25 |
| 23. | We Are Gods Now | 1:37 |
| 24. | All This for What? | 1:25 |
| 25. | Such a Beauty | 3:10 |
| | Total Album Time: | 60:58 |
From the Manufacturer
ScreamWorks Records opens 2017 with the CD premiere of two its digital releases by composer
Gerrit Wunder
. Written and directed by Jonathan & Rebecca Martin, both
Kiss the Devil in the Dark
and
Creatures of Whitechapel
are inventive fantasy/horror shorts with darkly Gothic scores steeped in rich symphonic themes.
"Director Jonathan Martin has a very clear vision for his movies" explains the composer about how he approached the film. "Regarding the score, his philosophy is that he wants to see the whole movie in front of his eyes when just listening to the music. That is why I compose wall to wall music for his films. It's almost like an opera. Most characters have their themes and motives so you'll be able to find a very Wagnerian leitmotif-technique approach in this score. In fact I think Jonathan would have preferred to hire Wagner himself, so he ended up with me, at least Wagner and I share the same mother tongue."
"Scoring Creatures of Whitechapel was a very unique experience due to the fact that I had to score wall to wall orchestral music for this short film" explains the composer about how he approached the film. "It felt more intense than many of the feature films I have worked on in the past. Director Jonathan Martin's motto is "I like it big" and so I try to support the characters and their journey using Wagnerian leitmotif techniques combined with big and rich orchestrations. I hope this score will be enjoyable to listen to by fans of dark and big orchestral film music.
Missing Information?
If any information appears to be missing from this page, contact us and let us know!