Soundtrack Information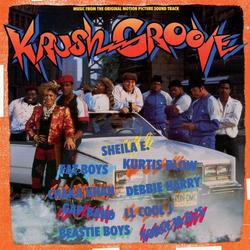 Krush Groove - Vinyl Edition
Limited Edition of 1,500 Units
Varese Sarabande (03020675135)
Release Date: April 21, 2018
Format: Vinyl
Music From
Purchase Soundtrack
Track Listing
1.
SIDE A: Krush Groove (Can't Stop The Street) (Chaka Khan)
2.
I Can't Live Without My Radio (LL Cool J)
3.
If I Ruled The World (Kurtis Blow)
4.
All You Can Eat (Fat Boys)
5.
Feel The Spin (Debbie Harry)
6.
SIDE B: Holly Rock (Sheila E.)
7.
She's On It (Beastie Boys)
8.
Love Triangle (Gap Band)
9.
Tender Love (Force M.D.'s)
10.
Krush Groovin' (Fat Boys, Run-D.M.C., Sheila E. and Kurtis Blow (The Krush Groove All Stars)
Track lengths not available for this album. If you have track length/time information for this album, please e-mail it to us at mail@soundtrack.net and we will add it to the database.
Related Albums
Krush GrooveRhino Atlantic

Released: 1985

Formats: CD, Digital, Cassette, Vinyl (46 min)
Missing Information?
If any information appears to be missing from this page, contact us and let us know!