Soundtrack Information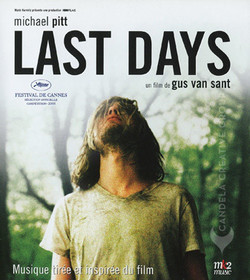 Last Days
Release Date: May 9, 2005
Format: CD
Music From
Purchase Soundtrack
Track Listing
1.
Death To Birth (Pagoda)
2.
Venus In Furs (The Velvet Underground)
3.
That Day (Michael Pitt)
4.
A Pointless Ride (Version Studio) (The Hermitt)
5.
Fetus (Pagoda)
6.
Death To Birth (Michael Pitt)
7.
Seen As None (The Hermitt)
8.
Electric Pen (Dash, Mirror)
9.
Untitled (Lukas Haas)
10.
Believe (Tenlons Fort)
11.
La Guerre (The King 'S Singers)
12.
Turen Der Wahrnehmung (Doors Of Perception) (Hildegard Westerkamp)
Track lengths not available for this album. If you have track length/time information for this album, please e-mail it to us at mail@soundtrack.net and we will add it to the database.
Missing Information?
If any information appears to be missing from this page, contact us and let us know!