Soundtrack Information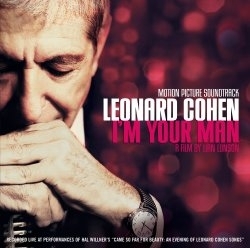 Leonard Cohen: I'm Your Man
Verve Music (B0007169-02)
Release Date: July 25, 2006
Formats: CD, Digital
Music From
Purchase Soundtrack
Track Listing
| | | |
| --- | --- | --- |
| 1. | "Tower Of Song" - Martha Wainwright | 3:46 |
| 2. | "Tonight Will Be Fine" - Teddy Thompson | 3:36 |
| 3. | "I'm Your Man" - Nick Cave | 4:31 |
| 4. | "Winter Lady" - Kate and Anna McGarrigle & Martha Wainwright | 3:21 |
| 5. | "Sisters Of Mercy" - Beth Orton | 4:41 |
| 6. | "Chelsea Hotel No. 2" - Rufus Wainwright | 3:47 |
| 7. | "If It Be Your Will" - Antony | 5:55 |
| 8. | "I Can't Forget" - Jarvis Cocker | 3:43 |
| 9. | "Famous Blue Raincoat" - The Handsome Family | 5:08 |
| 10. | "Bird On A Wire" - Perla Batalla | 6:35 |
| 11. | "Everybody Knows" - Rufus Wainwright | 4:30 |
| 12. | "The Traitor" - Martha Wainwright | 4:45 |
| 13. | "Suzanne" - Nick Cave, Julie Christensen, Perla Batalla | 4:44 |
| 14. | "The Future" - Teddy Thompson | 6:51 |
| 15. | "Anthem" - Perla Batalla & Julie Christensen | 6:13 |
| 16. | "Tower Of Song" - Leonard Cohen & U2 | 5:44 |
| | Total Album Time: | 77:50 |
Review: Leonard Cohen: I\'m Your Man
by John Merriman
September 18, 2006
4 / 5 Stars
The soundtrack to the documentary Leonard Cohen: I\'m Your Man features 15 Leonard Cohen songs - one of which receives two separate renditions - all covered by a varied mix of singer-songwriters. Including two songs from the January 2005 tribute concert "Came So Far For Beauty: An Evening of Leonard Cohen Songs" at the Sydney Opera House, most of the music is actually from an earlier version of the tribute concert, the May 2004 show at the Brighton Dome in England. Regardless, the album is overall a solid achievement. A satisfying blend of vocal and instrumental variations of these classic Cohen songs round out an album that\'s at the crossroads of folk, country, and alternative as well as classic rock.
Martha Wainwright\'s gently impassioned vocals start things off with her rendition of "Tower Of Song", followed by Teddy Thompson\'s steady and laid-back "Tonight Will Be Fine". Nick Cave\'s gutsy rendition of "I\'m Your Man" is next, which contrasts heavily with the ethereal, almost ghostly version of "Winter Lady", performed by Kate and Anna McGarrigle and Martha Wainwright. A similarly subdued approach is taken with Beth Orton\'s "Sisters of Mercy", her quivering vocals leading smoothly into Rufus Wainwright\'s strong rendition of "Chelsea Hotel No. 2".
Antony\'s quasi-operatic rendition of "If It Be Your Will" follows, notable for its prominent backup choir, which precedes another quasi-operatic interpretation, this time of "I Can\'t Forget", redone by Jarvis Cocker. The Handsome Family gives an appropriately tough and downbeat rendition of "Famous Blue Raincoat", which is followed by a decent but straightforward version of "Bird On A Wire" by Perla Batalla. Things pick up with the relatively upbeat, Tango-infused interpretation of "Everybody Knows" by Rufus Wainwright, before more arresting vocals by Martha Wainwright grace her rendition of "The Traitor".
Nick Cave, Julie Christensen, and Perla Batalla all collaborate in "Suzanne", an interesting arrangement that\'s ultimately not as strong as the other inclusions. The song shares a relatively fast-paced tempo with Teddy Thompson\'s "The Future"; despite Cohen\'s dark lyrics, this particular song features some of the most upbeat instrumentation on the album. Perla Batalla and Julie Christensen\'s impassioned "Anthem" leads into the final track, a second rendition of "Tower Of Song" that actually features Leonard Cohen\'s own deep vocals, along with the awkward, unwelcome but thankfully brief inclusion of U2\'s Bono over steadily moving percussion.
In short, nearly all the singers featured in these cover songs are in top form, backed by a pleasing variety of instrumentals throughout. The result is an album easily enjoyed by those who can appreciate how these artists have deviated from the Cohen originals, as well as those who aren\'t very familiar with his work. As far as tribute albums go, Leonard Cohen: I\'m Your Man is reverent and heartfelt. Instead of trying to parrot the originals, the featured artists put in strong efforts to make these songs fit their own distinctive voices and styles, and it pays off excellently. Nearly every song is a definite highlight.
Soundtrack.Net Articles
Missing Information?
If any information appears to be missing from this page, contact us and let us know!