Soundtrack Information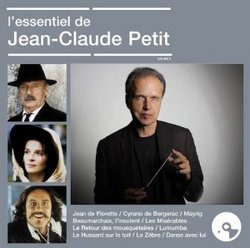 l'essential de Jean-Claude Petit
Release Date: May 7, 2013
Format: CD
Music By
Purchase Soundtrack
Track Listing
1.
Jean de florette
2.
Cyrano de bergerac (Thierry Caens)
3.
Beaumarchais
4.
Mayrig
5.
Dele yaman
6.
Hôtel normandy
7.
La chanson du zebre (Alain Souchon)
8.
Provence
9.
Touch and die
10.
Le hussard sur le toit
11.
Desire
12.
Danse avec lui
13.
Les miserables
14.
Le discours
15.
Le caviar rouge
16.
Twenty years later
17.
Tristesse et beaute
18.
Sexes tres opposes
19.
End credits
20.
Savannah (Jacques Higelin)
21.
Messieurs les enfants
22.
End credits
23.
Le fils
24.
Epilogue
Track lengths not available for this album. If you have track length/time information for this album, please e-mail it to us at mail@soundtrack.net and we will add it to the database.
Missing Information?
If any information appears to be missing from this page, contact us and let us know!