Soundtrack Information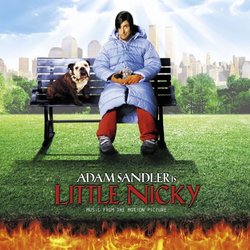 Little Nicky
Maverick (9 47856-2)
Release Date: October 31, 2000
Formats: CD, Digital
Music From
Purchase Soundtrack
Track Listing
| | | |
| --- | --- | --- |
| 1. | School Of Hard Knocks (P.O.D.) | 4:04 |
| 2. | Pardon Me (Incubus) | 3:45 |
| 3. | Change (In the House of Flies) (Deftones) | 4:59 |
| 4. | (Rock) Superstar (Cypress Hill) | 4:36 |
| 5. | Natural High (Insolence) | 3:20 |
| 6. | Points Of Authority (Linkin Park) | 3:20 |
| 7. | Stupify (Fu's Forbidden Little Nicky Remix) (Disturbed) | 5:08 |
| 8. | Nothing (ünloco) | 2:40 |
| 9. | When Worlds Collide (Powerman 5000) | 2:57 |
| 10. | Cave (Muse) | 4:46 |
| 11. | Take A Picture (Filter) | 4:22 |
| 12. | Be Quiet And Drive (Far Away) (Deftones) | 4:33 |
| | Total Album Time: | 48:30 |
Review: Little Nicky
by Matthew Sheby
December 2, 2004
2.5 / 5 Stars
For the record, I think Adam Sandler is a funny man. I went into Little Nicky wanting it to be a good movie; I really did. To my dismay, it wasn't all that funny. Hopefully, this was a slight aberration in a string of otherwise-humorous comedies. To be honest, I wasn't that happy with the soundtrack either.
The album's first song is "School of Hard Knocks," by the group P.O.D. This mosh-friendly song, though fun and energizing, is but the first of a few "blended" songs on the album. By this, I mean they belong to the "go white boy, go white boy, go" school of music in which people rap over hard rockin' beats (Limp Bizkit being the movement's best-known band). Anyway, Insolence's "Natural High" is another song of this ilk. However, the guitar parts played during the chorus are darker and gloomier than the former's pop flavoring. In my opinion, this makes the song much more appropriate for a movie, though comedic, with a diabolical subject matter.
Next in this line of progression is the older-school Cypress Hill and their oft-played "(Rock) Superstar." I always enjoyed the group's more esoteric samples and am happy to hear this popular single on the soundtrack album. It's a very intelligent song, especially in light of the group's earlier "I Wanna Get High." It should be mentioned that the combination of rap and rock works: the bona-fide rappers mesh quite well with the guitars prevalent in the song. (One note for fans: this version is an extended, explicit version of what you've heard on the radio for so long.)
I think I saw Linkin Park in a festival this past summer; I forget. That nondescript nature is conveyed with "Points of Authority," which has the lead guy alternately singing, rapping, and screaming. On one hand, it has a surprisingly good, up-tempo beat; the random turntable scratches also help. However, the lead sounds like a dork when he raps, which eliminates any edginess in the song. Ice, ice, baby. Disturbed's "Stupify" remix starts with a synth and drum machine, then moves into metal power chords. There's brief rap, but the group quickly switches to an industrial groove. Like the Insolence song, it actually works for this album. It would surely fit in well on a Crow-sequel soundtrack. For the sake of completion, Powerman 5000 also has a drum machine (or a bored drummer) in its NiN-tinged, radio-saturated "When Worlds Collide."
Several other songs on this album are ones also frequently heard on one's friendly neighborhood alterna-rock station. For example, the album uses an Incubus track, "Pardon Me," with which KROQ Los Angeles has inundated the airwaves. The Deftones' first of two tracks on the album, "Change (In the House of Flies)," also is a multiply requested hard rock number. (That overplayed Filter song is also heard here. However, "Take My Picture" is a likeable song, so that's okay.)
"Nothing" is an indistinguishable song by Unloco, an indistinguishable band. There's screaming, there's power chords, there's some angst about a girl. Muse's "Cave" is a dense song with keyboards, drums, bass, and guitar. What sets it apart from the other bands on this album is that it almost sounds like an offshoot of Queen. Muse's lead singer, who has a vocal styling similar to Freddie Mercury, combined with the album's only rock keyboards, defends the comparison. In addition, the song's almost five minutes long, a duration closer to that of rock ballads. The last song on the album is the bravest: an acoustic version of the Deftones' "Be Quiet and Drive (Far Away)." Enough sonic layers are introduced throughout the song to ensure the song won't be mistaken for a schlock ballad. Big ups for that one, gentlemen.
This album should be perceived differently by listeners of different tastes. If one really likes the rock/rap phenomenon, then as a fan you probably have all the songs already. On the other hand, industrial/goth types won't find enough good material overall to merit buying this album. The best audience for this album seems to be teenage watchers of MTV. Wait, that's the target audience of the film, too! For the rest of the planet, this album gets 2.5 out of 5 stars.
Missing Information?
If any information appears to be missing from this page, contact us and let us know!