Soundtrack Information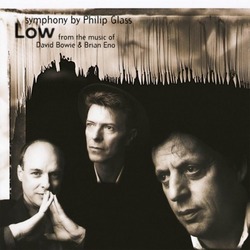 Low: Symphony by Philip Glass
Release Date: June 9, 2014
Conducted by Dennis Russell Davies
Performed by
Brooklyn Philharmonic
Format: Vinyl
Music By
Purchase Soundtrack
Track Listing
1.
SIDE A: Subterraneans
2.
Some Are
3.
SIDE B: Warszawa
Track lengths not available for this album. If you have track length/time information for this album, please e-mail it to us at mail@soundtrack.net and we will add it to the database.
From the Manufacturer
"Low" Symphony, composed by Philip Glass in the spring of 1992, is based on the record Low by David Bowie and Brian Eno, first released in 1977. Glass took themes from three of the instrumentals on the original and, combining them with his own material, used them as the basis of three movements of the "Low" Symphony. Movement One comes from "Subterraneans," Movement Two from "Some Are," which was not featured on Bowie's original recording, and Movement Three from "Warszawa."
The "Low" Symphony was performed by the Brooklyn Philharmonic orchestra under the batons of Dennis Russell Davies, principal conductor, and Karen Kamensek, assistant conductor. Glass allowed ideas of Bowie and Eno, who worked together on Low, to influence how he worked on the music, leading to surprising musical conclusions and becoming a real collaboration between the music of all three maestros.
This is the first ever vinyl issue of "Low" Symphony!
180 gram audiophile vinyl. Insert. Deluxe PVC sleeve.
Missing Information?
If any information appears to be missing from this page, contact us and let us know!