Soundtrack Information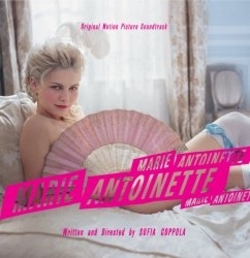 Marie Antoinette
Verve Music (B0007822-02)
Release Date: October 10, 2006
Formats: CD, Digital, Vinyl
Music From
Purchase Soundtrack
Track Listing
Disc 1: Marie Antoinette
1.
"Hong Kong Garden" - Siouxsie & The Banshees
3:10
2.
"Aphrodisiac" - Bow Wow Wow
2:57
3.
"What Ever Happened" - The Strokes
2:48
4.
"Pulling Our Weight" - The Radio Dept.
3:21
5.
"Ceremony" - New Order
4:22
6.
"Natural's Not In It" - Gang Of Four
3:06
7.
"I Want Candy (Kevin Shields Remix)" - Bow Wow Wow
2:39
8.
"Kings Of The Wild Frontier" - Adam & The Ants
3:56
9.
"Concerto In G" - Antonio Vivaldi / Reitzell
2:31
10.
"The Melody Of A Fallen Tree" - Windsor For The Derby
8:16
11.
"I Don't Like It Like This" - The Radio Dept.
4:08
12.
"Plainsong" - The Cure
5:08
Disc Time:
46:22
Disc 2: Marie Antoinette
1.
"Intro Versailles" - Reitzell / Beggs
0:37
2.
"Jynweythek Ylow" - Aphex Twin
2:35
3.
"Opus 17" - Dustin O'Halloran
2:03
4.
"Il Secundo Giorno (Instrumental)" - Air
4:57
5.
"Keen On Boys" - The Radio Dept.
4:49
6.
"Opus 23" - Dustin O'Halloran
3:08
7.
"Les Barricades Mysterious" - Fancois Couperin / Reitzell
2:35
8.
"Fools Rush In (Kevin Shields Remix)" - Bow Wow Wow
2:19
9.
"Avril 14th" - Aphex Twin
1:58
10.
"K. 213" - Domenico Scarlatti / Reitzell
4:22
11.
"Tommib Help Buss" - Squarepusher
2:10
12.
"Tristes Apprêts, Pâles Flambeaux" - Jean Philippe Rameau / W. Christie
5:54
13.
"Opus 36" - Dustin O'Halloran
1:45
14.
"All Cats Are Grey" - The Cure
5:23
Disc Time:
Total Album Time:
44:35
90:57
Review: Marie Antoinette
by Rafael Ruiz
January 18, 2007
4 / 5 Stars
"Natural\'s Not In It" states:
The Problem of Leisure
What to do for Pleasure
I do love a New Purchase
A Market of the Senses
And that\'s Marie Antoinette.
Sophia Coppola will never forget what it was like to be a teenager. The confusion, the passion, the mysteries and possibilities of youth. The brilliance of Marie Antoinette (whether you enjoy it or not) is that Coppolla doesn\'t condone Antoinette\'s actions, but she does relate to them and asks us for our understanding. These are not characters set in history like marble statues, but confused young people in the world\'s most elite and secularized cliques, removed from perspective or any true sense of consequence. You know, like high school.
A key component of our connection is the use of modern music on the soundtrack. The album is really a blend of three styles (80\'s pop new wave, dreamy ambient and classical music). It\'s a "different" mixture to be sure, but appropriate for a Sophia Coppolla movie. The juxtaposition of pop music into a period setting to create a fresh emotional association is not new. Previously, A Knight\'s Tale tried for a similar effect, but it came off too much as a jokey gimmick. The songs were obvious and too on the nose. The song selection here is fantastic. Coppolla doesn\'t randomly pick a bunch of well know tracks. The music of her movies directly ties into the dreaminess of an adolescent\'s mind.
Marie never discusses her true feeling the entire movie. The songs are her internal monologue of a sorts transported to another time. "I Want Candy" is "Let them eat cake." And Adam Ant\'s "Kings of the Wild Frontier" declares, "A new royal Family, A World of Nobility, We are Family!"
Not only do these songs tie in thematically, they are all really great rockin\' choices of retro music. All of the 80\'s songs have a driving guitar rhythm with percussive bass. Even Vivaldi\'s "Concerto in G" has a moving beat. Radio Dept is very much a New Order style retro group. So their dreamy sound ("Pulling Our Weight","I Don\'t Like It Like This") is in good company with the rest of the tracks. Only the Stokes ("What Ever Happened") stick out. They link up in terms of genre aesthetics, they are distant emotionally but the track feels like a concession rather than an active selection.
Then at the beginning of the second disc, the mood changes gears. Marie\'s husband Louis XVI takes the crown of France and she is finding a place for herself as the head of Versailles. This disk represents Marie as she internalizes, withdrawing from the world around her into a private space. There\'s much more period music. Dropped throughout are several tracks of harpsichord pieces ("K. 213" and "Les Baricades Misterieuses") and withdrawn piano pieces ("Opus 17","Opus 23"," Opus 36") by the fantastic Dustin O\'Halloran. The electronic is dreamier as well. The Radio Dept.\'s "Keen on Boys" sounds more distant than their previous two tracks. "Avril 14th" doesn\'t really sound like an AphexTwin track at all with its simple piano melody. Most importantly, it can\'t be a Sophia Coppola movie without some dreamy track by Air in it ("Il Secondo Giorno"). Only "Fools Rush In" really doesn\'t work.
The last track ("All Cats Are Grey") is just not a strong closer for the movie. The climax needs something along the lines of "Just Like Honey" from Lost in Translation, some sort of melancholy ode to lost youth. But for the soundtrack, it is dandy. This makes the whole album sound more like a dissertation. It\'s more of a private mix tape. One could imagine Sophia drawing the on the tape in pink and blue ink with little swirlies and stars drawn on the sides. This is like getting two albums in one.
All in all, my favorite needle-drop soundtrack of the year.
Missing Information?
If any information appears to be missing from this page, contact us and let us know!