Soundtrack Information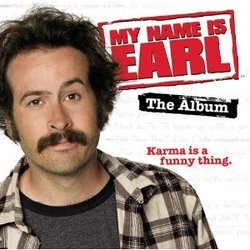 My Name is Earl: The Album
Shout Factory (826663-10156)
Release Date: September 19, 2006
Format: CD
Purchase Soundtrack
Track Listing
| | | |
| --- | --- | --- |
| 1. | "I'm The Bandit" - Earl Hickey | 0:13 |
| 2. | "East Bound And Down" - Jerry Reed | 2:46 |
| 3. | "The Weight" - Uncle Kracker | 4:58 |
| 4. | "One Time One Night" - Los Lobos | 4:50 |
| 5. | "Bust A Move" - Young MC | 4:23 |
| 6. | "Livin' Thing" - Matthew Sweet | 3:39 |
| 7. | "It Takes Two" - ROB BASE & D.J. E-Z ROCK | 5:00 |
| 8. | "Smoke! Smoke! Smoke! (That Cigarette)" - Sammy Davis Jr. | 3:03 |
| 9. | "Gimme Three Steps" - Lynyrd Skynyrd | 4:40 |
| 10. | "Joy" - Harry Nilsson | 3:43 |
| 11. | "Amos Moses" - Jerry Reed | 2:25 |
| 12. | "Instant Karma" - John Hiatt | 3:35 |
| 13. | "What Goes Around Comes Around (Earl's Theme, Vocal Version)" - Nescobar-A-Lop-Lop And Camden County Band | 3:09 |
| 14. | "99 Red Balloons" - Van Nuys | 3:37 |
| | Total Album Time: | 50:01 |
Review: My Name is Earl: The Album
by Matt Millstein
October 27, 2006
3.5 / 5 Stars
Right off the bat, I have to admit that I don\'t watch, My Name is Earl on a regular basis; what I have seen of it is has been pretty funny. The music played on the show is solid in a retro-kitsch kind of way with a "rootsy" Americana/country music vibe, kind of like the show itself. My Name is Earl: The Album does a good job of capturing this style. Supposedly, lead actor Jason Lee and the show\'s creator Greg Garcia worked with the soundtrack team at Shout! Factory Records to help give it that feel.
The album is made up of classic originals and covers. For the most part it is made up of southern rock and country music. However, the album jumps unexpectedly a few times to the tune of two classic early nineties, top-forty, hip-hop staples; "Bust a Move" and "It Takes Two". While both Young Mc and Rob Base bring me down memory lane, "Bust a Move" and "It Takes Two" are perhaps a little out of character with the flow of the soundtrack. Sandwiched between tunes by Sammy Davis Jr., Matthew Sweet and Los Lobos, the two hip-hop tracks can seem a bit jarring. Mixed in with the music, Jason Lee and other cast members provide small sound bytes from the show. These sound bytes are always short, sweet, and funny, adding to the mix, not detracting from it.
The cover songs on the album are probably the weakest of the lot. This is not to say that the covers are bad, they are just kind of boring in a non-daring way. Uncle Kracker\'s cover of the "Weight" is well-executed and quite traditional, but he doesn\'t add anything new to the original. Uncle Kracker doesn\'t take many liberties, which may be okay because the original is near perfect and hard to top. John Hiatt\'s take on John Lennon\'s "Instant Karma" is a nice cut of roots rock and it is an original take, but it doesn\'t stack up to the real thing. Matthew Sweet\'s cover of ELO\'s "Livin\' Thing" is a decent 70\'s style rocker, and the mystery-band Van Nuys finishes of the album with a rollicking version of Nena\'s "99 Red Balloons, which is fun but not too memorable.
The classic country tunes are what makes this soundtrack for me. All the songs are kitschy but in a good-natured way. Both songs by actor and country singer Jerry Reed, "Eastbound Train" and "Amos and Moses", are winners. "Eastbound Train" is actually the theme from the Smokey and the Bandit movies. Both songs exemplify the goofy, country hick style of seventies pop cultural kitsch like Dukes of Hazzard and Smokey and the Bandit. My favorite song on the album has to be the tongue and cheek "Smoke! Smoke! Smoke! by the late Sammy Davis Jr. This song is not standard Sammy Davis Jr. lounge lizard fare; it is straight country. The song is a very funny take on the addictive powers of nicotine. The verses are almost spoken, very similar to the styling of Johnny Cash in his classic "A Boy Named Sue". Lynyrd\'s Skynyrd\'s "Gimme Three Steps" adds furthur validity to the Southern theme on the album. This is one of those classic Skynyrd songs that stands the test of time, sounding as fresh and whiskey soaked as it most likely did back in the seventies when it was recorded.
Overall, I like this album, it is a quirky collaboration. This is the type of album that I might not listen to everyday, but that I might pick up from time to time to listen to a few tracks. I would imagine that this compilation would make a lot more sense, if I was more of a fan of the show, but even as a casual viewer, it is quite effective.
Missing Information?
If any information appears to be missing from this page, contact us and let us know!