Soundtrack Information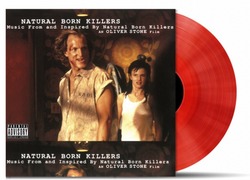 Natural Born Killers
First Pressing Limited Edition of 2,000 Copies
Music On Vinyl / At the Movies
Release Date: December 8, 2014
Format: Vinyl
Music From
Purchase Soundtrack
Track Listing
Disc 1: Natural Born Killers
1.
SIDE A: Waiting For The Miracle (Leonard Cohen)
3:43
2.
Shitlist [Explicit] (L-7)
2:48
3.
Moon Over Greene County (Dan Zanes)
2:19
4.
Rock N Roll Nigger [Explicit] (Patti Smith)
4:00
5.
Sweet Jane (Cowboy Junkies)
3:22
6.
You Belong To Me (Bob Dylan)
3:09
7.
SIDE B: The Trembler (Duane Eddy)
1:10
8.
Burn (Nine Inch Nails)
5:00
9.
Route 666 (Brian Berdan)
0:56
10.
Totally Hot (Remmy Ongala & Orchestre Super Matimila)
0:47
11.
Back In Baby's Arms (Patsy Cline)
2:04
12.
Taboo (Peter Gabriel)
4:22
13.
Sex Is Violent [Explicit] (Jane's Addiction)
4:58
Disc Time:
38:38
Disc 2: Natural Born Killers
1.
SIDE C: History (Repeats Itself) (A.O.S)
2:22
2.
15. Something I Can Never Have (Nine Inch Nails)
4:04
3.
16. I Will Take You Home (Russel Means)
2:18
4.
17. Drums A Go-Go (Hollywood Persuaders)
1:10
5.
18. Hungry Ants (Barry Adamson)
3:12
6.
19. The Day The Niggaz Took Over [Explicit] (Dr. Dre)
4:33
7.
20. Born Bad (Juilette Lewis)
0:43
8.
SIDE D: Fall Of The Rebel Angels (Sergio Cervetti)
1:21
9.
22. Forkboy (Lard)
3:54
10.
23. Batonga In Batongaville (Budapest Philharmonic Orchestra)
1:04
11.
24. A Warm Place (Nine Inch Nails)
2:59
12.
25. Allah, Mohammed, Char, Yaar (Nusrat Fateh Ali Khan)
1:07
13.
26. The Future [Explicit] (Leonard Cohen)
3:49
14.
27. What Would U Do? [Explicit] (Tha Dogg Pound)
4:14
Disc Time:
Total Album Time:
36:50
75:28
From the Manufacturer
Produced by Trent Reznor of Nine Inch Nails, the soundtrack to the film Natural Born Killers (1994) was a downright smash in youngster's music tastes of the era.
Some songs were written especially for the film or soundtrack, such as "Burn" by Nine Inch Nails. Other songs featured are by artists like Patti Smith, Cowboy Junkies, Leonard Cohen, Jane's Addiction, Dr. Dre and Juliette Lewis. The album has sold 500,000 copies in the United States, making it a Gold record.
180 gram audiophile vinyl. Gatefold sleeve. First pressing of 2000 numbered copies on blood red vinyl.
Missing Information?
If any information appears to be missing from this page, contact us and let us know!