Soundtrack Information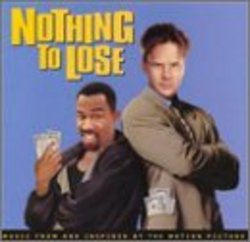 Nothing to Lose - Clean
Release Date: July 18, 1997
Formats: CD, Cassette
Music From
Purchase Soundtrack
Track Listing
1.
Nothin' to Lose (Naughty Live) (Naughty By Nature)
2.
Not Tonight (Remix) (Lil' Kim, Left Eye, Da Brat, Missy Elliott, Angie Martinez)
3.
C U When U Get There (Coolio, 40 Thevz)
4.
Put The Monkey In It (Soopafly)
5.
Thug Paradise (Capone, N-Noreaga, Tragedy)
6.
Way 2 Saucy - (MAC & A.K., Mac Mall)
7.
Get Down With Me (Amari, Buckshot)
8.
Poppin' That Fly... (DJ Clark Kent Remix) (Oran 'Juice' Jones, Stu Large & Camp Lo)
9.
Route 69 (Quad City DJ's)
10.
Hit 'Em Up (Master P)
11.
Everlasting (Outkast)
12.
Everlasting (911)
13.
In A Magazine (Eightball)
14.
Not Tonight (Queen Latifah)
15.
It's Alright (Black Caesar)
16.
Go Stetsa I (Stetsaonic)
17.
Crazy Maze (Des'ree)
Track lengths not available for this album. If you have track length/time information for this album, please e-mail it to us at mail@soundtrack.net and we will add it to the database.
Missing Information?
If any information appears to be missing from this page, contact us and let us know!