Soundtrack Information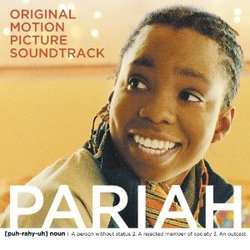 Pariah
Release Date: December 20, 2011
Formats: CD, Digital
Music From
Purchase Soundtrack
Track Listing
| | | |
| --- | --- | --- |
| 1. | My Neck, My Back (Khia) | 3:46 |
| 2. | Shut Up (emoniFela) | 2:57 |
| 3. | Doin My Thing (Sparlha Swa) | 4:22 |
| 4. | Pearl (Tamar-Kali) | 4:58 |
| 5. | Echelon (Honeychild Coleman) | 3:59 |
| 6. | Song of the Morning (Sparlha Swa) | 3:26 |
| 7. | Do You (Kandi Cole) | 2:29 |
| 8. | Top Blow (Daisha) | 3:15 |
| 9. | Gimmie Room (Kandi Cole) | 3:13 |
| 10. | Parallel (Audio Dyslexia) | 6:21 |
| 11. | Fire with Fire (Tamar-Kali) | 3:31 |
| | Total Album Time: | 42:17 |
From the Manufacturer
Alike is a 17-year-old African-American woman who lives with her parents and younger sister in Brooklyn's Fort Greene neighbourhood. Alike is quietly but firmly embracing her identity as a lesbian. With the support of her best friend, Laura, she is especially eager to find a girlfriend. Wondering how much she can confide in her family, Alike strives to get through adolescence with grace, humor, and tenacity—sometimes succeeding, sometimes not, but always moving forward.
Missing Information?
If any information appears to be missing from this page, contact us and let us know!