Soundtrack Information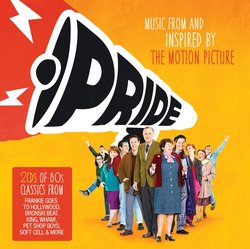 Pride
Release Date: September 15, 2014
Format: CD
Music From
Track Listing
Disc 1: Pride
1.
I Want to Break Free (Queen)
2.
Shame Shame Shame (Shirely and Company)
3.
Why (Bronski Beat)
4.
Love & Pride (King)
5.
Relax (Frankie Goes to Hollywood)
6.
Tainted Love (Soft Cell)
7.
West End Girls (Pet Shop Boys)
8.
Karma Chameleon (Culture Club)
9.
Pull Up to the Bumper (Grace Jones)
10.
You Spin Me Right Round (Dead or Alive)
11.
Freedom (Wham)
12.
I Second That Emotion (Smokey Robinson)
13.
Walls Come Tumbling Down (The Style Council)
14.
Temptation (Heaven 17)
15.
Love Will Tear Us Apart (Joy Division)
16.
Pale Shelter (Tears For Fears)
17.
Making Plans For Nigel (XTC)
18.
Our Lips Are Sealed (Fun Boy Three)
19.
Power In The Union (Billy Bragg)
20.
Solidarity Forever (Pete Seeger)
21.
Great Divide (Frank Solivan)
Disc 2: Pride
1.
Two Tribes (Frankie Goes To Hollywood)
2.
Blue Monday (New Order)
3.
For a Friend (The Communards)
4.
All of My Heart (ABC)
5.
Do Ya Wanna Funk (Sylvester)
6.
Red Red Wine (UB40)
7.
Genius of Love (Tom Tom Club)
8.
Homosapian (Pete Shelley)
9.
Hard Times (Human League)
10.
I Travel (Simple Minds)
11.
A New England (Kirsty Macoll)
12.
The Associates (Waiting for the Loveboat)
13.
Ghosts (Japan)
14.
Living On the Ceiling (Blancmange)
15.
Robert de Niro's Waiting (Bananarama)
16.
Keep On Keeping On (The Redskins)
17.
Are You Ready To be Heartbroken (Lloyd Cole & The Commotions)
18.
Across the Bridge (Christopher Nightingale)
19.
Autumn Montage (Christopher Nightingale)
20.
Homecoming (Christopher Nightingale)
21.
Bread & Roses (Bronwen Lewis)
Track lengths not available for this album. If you have track length/time information for this album, please e-mail it to us at mail@soundtrack.net and we will add it to the database.
Missing Information?
If any information appears to be missing from this page, contact us and let us know!