Soundtrack Information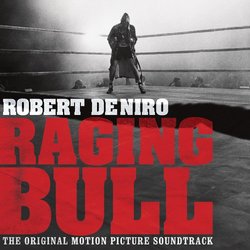 Raging Bull
Capitol Records (72435-60322-2-4)
Release Date: August 1, 2005
Format: CD
Music From
Purchase Soundtrack
Track Listing
Disc 1: Raging Bull
1.
"Cavalleria Rusticana: Intermezzo" - Orchestra of Bologna Municop Theatra
2:41
2.
"Jersey Bounce" - Benny Goodman and His Orchestra
3:09
3.
"Prisoner of Love" - Russ Columbo & Nat Shilkret's Orchestra
3:36
4.
"Just One More Chance" - Bing Crosby with Victor Young's Orchestra
3:29
5.
"Cow-Cow Boogie" - Ella Fitzgerald featuring The Ink Spots
2:55
6.
"Vivere" - Carlo Buti
3:35
7.
"Whispering Grass (Don't Tell The Trees)" - The Ink Spots
2:44
8.
"Two O'Clock Jump" - Harry James & His Orchestra
3:17
9.
"Drum Boogie" - Gene Krupa & His Orchestra
3:08
10.
"All Or Nothing At All" - Harry James & His Orchestra feat. Frank Sinatra
2:59
11.
"Flash" - Harry James & His Orchestra
5:21
12.
"My Reverie" - Larry Clinton & His Orchestra
3:20
13.
"Stornelli Fiorentini" - Carol Buti
2:43
14.
"Webster Hall" - Robbie Robertson
5:23
15.
"Big Noise From Winnetka" - Bob Crosby & The Bobcats
2:37
16.
"Frenesi" - Artie Shaw and His Orchestra
3:08
17.
"Do I Worry?" - The Ink Spots
2:39
18.
"Turi Guiliano" - Orazio Strano
5:45
Disc Time:
62:29
Disc 2: Raging Bull
1.
"Silvano: Barcarolle" - Orchestra of Bologna Municop Theatra
3:37
2.
"Stone Cold Dead In The Market" - Ella Fitzgerald with Louis Jordan
2:40
3.
"Nao Tenho Lagrimas" - Patricio Teixeira
3:09
4.
"Heartaches" - Ted Weems & His Orchestra
2:34
5.
"A New Kind Of Love" - Robbie Robertson
2:37
6.
"Till Then" - The Mills Brothers
2:38
7.
"Mona Lisa" - Nat King Cole
3:15
8.
"That's My Desire" - Frankie Laine w/ Mannie Klein's All-Starsn
3:20
9.
"Guglielmo Ratcliff: Intermezzo" - Orchestra of Bologna Municop Theatra
5:00
10.
"Bye, Bye, Baby" - Marilyn Monroe
3:29
11.
"That's Entertainment" - Robert De Niro
3:27
12.
"Blue Velvet" - Tony Bennett
3:02
13.
"Scapricciatiello (Infatuation)" - Renato Carosone
3:34
14.
"Come Fly With Me" - Frank Sinatra
3:19
15.
"Just a Gigolo / I Ain't Got Nobody" - Louis Prima & Keely Smith
4:46
16.
"Lonely Nights" - The Hearts
2:41
17.
"Prisoner of Love" - Perry Como w/ the Andrew Kastelanetz Orchestra
3:31
18.
"Cavalleria Rusticana: Intermezzo [reprise]" - Orchestra of Bologna Municop Theatra
2:09
19.
"At Last" - Robbie Robertson
3:34
Disc Time:
Total Album Time:
62:22
124:51
Review: Raging Bull
by Rafael Ruiz
August 15, 2005
4.5 / 5 Stars
For many, Raging Bull is Martin Scorsese's masterpiece. It is not only considered one of the great films of the 1980's but only of the all-time best movies ever made. This biographical film tells the story of Jake La Motta, the one-time middle-weight boxing champion of the world. Vicious inside and outside of the ring, La Motta punished those closest to him the most of all with paranoia and random violence.
Like many of Scorsese's other movies (Mean Streets, GoodFellas, Casino), this film is filled with "needle drops." Outside of his obvious brilliance with the camera and actors, one of Martin's boldest ideas was to make the score of his films be the eclectic mix of records and albums of the world these characters inhabit. This musical approach has influenced almost every filmmaker after him who has approached the underworld of American crime (Quentin Tarentino, Paul Thomas Anderson, Michael Mann, Ted Demme, and on and on and on).
Scorsese movies often have too much music to include on a standard soundtrack release. Even when a double album is created, there's still music left over. This two-disc edition seeks to buck that trend.
Having reviewed the song album for The Aviator a few months ago, it is not surprising that I saw a few of the same artists show up in both films, though they were made twenty four years apart. Artie Shaw and his Orchestra are here ("Frenesi") as are the Ink Spots ("Whispering Grass"). Even for people who aren't a fan of Big Band and Jazz, there are a few tracks that should strike you immediately familiar, ("Two O'Clock Jump" and "Big Noise from Winnetka"). Plenty of well know 50's classics are peppered throughout: Louis Prima "Just a Gigolo/ I Ain't Got Nobody", Frank Sinatra "Come Fly With Me", Tony Bennett ("Blue Velvet") and Bing Crosby ("One More Chance"). There's also my all-time favorite version of "Mona Lisa", Nat King Cole's delicate and soothing version.
Scorsese saw a violent poetry in boxing that had been unseen previously. He wisely used "Cavalleria Rusticana: Intermezzo" as the unofficial theme of the movie. It's is hard to associate the music with another other than a hooded La Motta jumping around ready for action in a black and white ring. The Period of the 50's and 60's was when Latin and Italian music made an impact on popular music, as represented by Renato Carosone's "Scapricciatiella", Orazio Strano's "Turi Giuliano" and Patricio Teixeira's "Nao Tenho Lagrimas". The album even rounds out with memorable audio from the film, such as Robert De Niro performing as the aging La Motta in "That's Entertainment".
And I've only scrapes the surface of what is in the set. There's plenty more of Robbie Robinson, Marilyn Monroe, Ted Weems & His Orchestra, Larry Clinton & His Orchestra, Harry James & His Orchestra, Gene Krupa & his Orchestra, Benny Goodman & His Orchestra. Yes, a lot of people had their own orchestras.
This is a consummate collection of a classic movie and recommended without any qualifiers. I wish something equally impressive for some of his other classics (a Goodfellas two-disc would be amazing).
Soundtrack.Net Articles
Missing Information?
If any information appears to be missing from this page, contact us and let us know!