Soundtrack Information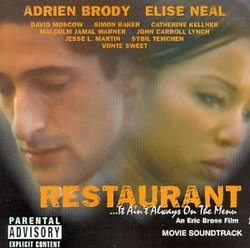 Restaurant
Release Date: April 4, 2000
Format: CD
Music From
Purchase Soundtrack
Track Listing
1.
Paradise (True Fortune)
2.
Ladies & Willies (Cap-One)
3.
All Mine (Evil Minds)
4.
Place Ya Bets (Rawcotiks)
5.
No Never Again (N' Dea Davenport)
6.
Piece Of Cake (Magic Juan)
7.
The Game Don't End (Infinite)
8.
Are You Ready (Shabaam Sahdeeq)
9.
From The Heart (Rated Raw)
10.
In My Moment (Susan Garcia)
11.
365 (Old World Disorder)
12.
Who Am I? (Truck)
13.
This Ain't A Movie (Adrien 'A. Ranger' Brody)
Track lengths not available for this album. If you have track length/time information for this album, please e-mail it to us at mail@soundtrack.net and we will add it to the database.
Missing Information?
If any information appears to be missing from this page, contact us and let us know!