Soundtrack Information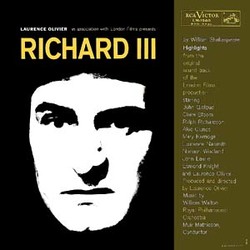 Richard III
Release Date: 1956
Format: Vinyl
Music From
Music By
Track Listing
1.
Now Is The Winter Of Our Discontent (Act 1, Scene 1)
2.
Gentle Lady Anne, Is Not The Causer Of The Untimely Death Of Your Brave Prince (Act 1, Scene 2)
3.
Why Looks Your Grace So Heavily Today? (Act 1, Scene 4)
4.
They Do Me Wrong, And I Will Not Endure It (Act 1, Scene 3)
5.
My Lord, At Once, The Cause Why We Are Met (Act 3, Scene 4)
6.
Cousin Of Buckingham, Give Me Thy Hand (Act 4, Scene 2)
7.
The Son Of Clarence Have I Pent Up Close (Act 4, Scene 3)
8.
What Is't O'Clock? (Act 5, Scene 3)
9.
My Lord / Who Is There? (Act 5, Scene 3)
Track lengths not available for this album. If you have track length/time information for this album, please e-mail it to us at mail@soundtrack.net and we will add it to the database.
Missing Information?
If any information appears to be missing from this page, contact us and let us know!