Soundtrack Information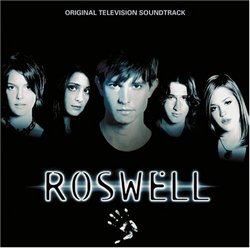 Roswell
Nettwerk America (0 6700 30255 0 8)
Release Date: February 26, 2002
Format: CD
Purchase Soundtrack
Track Listing
| | | |
| --- | --- | --- |
| 1. | Here With Me (Dido) | 4:14 |
| 2. | Save Yourself (Sense Field) | 3:19 |
| 3. | Edge of the Ocean (Ivy) | 4:10 |
| 4. | Brothers and Sisters (Coldplay) | 4:48 |
| 5. | Shining Light (Ash) | 4:08 |
| 6. | Fear (Sarah McLachlan) | 4:43 |
| 7. | Destiny (Zero 7) | 3:47 |
| 8. | More Than Us (Travis) | 3:57 |
| 9. | I Shall Believe (Sheryl Crow) | 5:35 |
| 10. | Blackbird (Doves) | 2:41 |
| 11. | Have a Nice Day (Stereophonics) | 3:27 |
| 12. | Here With Me (Dido) | 5:17 |
| | Total Album Time: | 50:06 |
Review: Roswell
by SoundtrackNet Staff (SF)
July 13, 2004
3.5 / 5 Stars
It's surprising what a challenge it's been to write a review of a fully underwhelming soundtrack. Maybe that I don't watch "Roswell" is part of the problem? Hmm, doubtful.  I don't know about you, but I would do well to never hear "Here With Me" again. For the rest of my life.  Ever. At all.  It's not that I don't like the song (a lie), but I think we can all agree that the saturation point has been reached and violated many times over by now. I don't think it would be too nice of me to sit here and go on about how the bulk of this album is forgetful and never did a television soundtrack do Clear Channel more proud... so, let's focus on the highlights.
Coldplay! Sarah McLachlan! The Doves! I haven't watched "Roswell" since the middle of the second season, but the show centers around "Brothers and Sisters", right?  Right.  Coldplay's offering is the only appropriately melancholic tune on the soundtrack.  The echo on the guitars and wonderfully wavering voice of Chris Martin makes it the kind of song that you would play out in the desert. (The desert? I know, but every time I see a commercial for the show, the kids are always running about that same patch of windy, dusty desert. So.)
There are two remixed tracks on this soundtrack. "Hybrid's Super Collider Mix" of Sarah McLachlan's "Fear" is the good one. Her vocals are sped up, but she never sounds like a chipmunk (maybe that depends on your perspective?) and the hyperness of the track as a whole lends itself well to the double-take, super fast cuts that are popular on TV and in films these days. I'm not entirely sure they engage in that sort of editing on "Roswell", but I wouldn't doubt it, not that it's necessarily a bad thing!
Possibly every line in "Blackbird" applies, if only metaphorically, to "Roswell". "Take these broken wings and learn to fly/All your life, you were only waiting for this moment to arrive." Well, the show began with an eruption and discovery of Max's powers, as well as his sister's and their pal's. They had to learn how to behave, how to be teenagers all over again, as if it was a cake walk the first time. They find a small select group with whom they can share their secrets (a moment they'd waited for...) and have to go from there.
Okay, I take it back. There's one more highlight: the Stereophonics' "Have A Nice Day". For partially nostalgic, but mostly aesthetic reasons, this is the kind of song that's been missing from "top 40" radio. A mild, late-'70s vibe mixed with late '90s groove and this is what you get. It's a fun song nowhere in the same neighborhood as cheesy, you'll like it! Really.
The one blanket statement I'll make about this soundtrack has nothing to do with the music on it. The "multimedia" side of the disc is really well executed. Navigating through the sections is relatively quick and painless, unburdened by excessive "look how much stuff we can do with Director!" effects. In fact the menu is easily accessed and elegant within the presentation to boot! I could do without the looping of "Here With Me", but it is the theme, after all, so I grant them that.  Maps and desktop wallpapers and character profiles, plus a video are all in the "multimedia" portion of the disc.  Couple that with the few aforementioned tunes, and I would say the soundtrack is worth the purchase. (Although, not at $18.99.)
Missing Information?
If any information appears to be missing from this page, contact us and let us know!