Soundtrack Information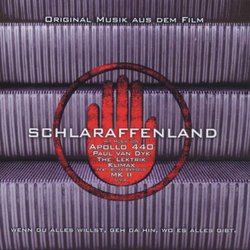 Schlaraffenland
Release Date: November 9, 1999
Format: CD
Music From
Track Listing
1.
Stop the Rock (Apollo 440)
2.
The Riddle (Paul Van Dyk)
3.
Burn This House (Klimax)
4.
Babylon (Mk I I)
5.
Chemical (Jovanka Klimax feat. Von Willsdorf)
6.
The Dummies Room (Manu Kurz)
7.
Escape Cool (The 'lektrik)
8.
The Judges (Manu Kurz)
9.
Stadium Parking Lot (Apollo 440)
10.
Schwerkraft (Klimax)
11.
Wir Schlagen Keine Kinder (Kinderzimmer Productions)
12.
The Mall (Cle & Xln, Dj)
13.
Enter: Mad Hatter (Blixa Klimax feat. Bargeld)
14.
Showdown (Manu Kurz)
15.
Blockers Tod (Manu Kurz)
16.
Only the Strong (Klimax feat. Dj Rap)
17.
In the Eyes of a Cat (Blixa Klimax feat. Bargeld)
18.
The Real Blockbuster (Radio Edit) (The 'lektrik)
Track lengths not available for this album. If you have track length/time information for this album, please e-mail it to us at mail@soundtrack.net and we will add it to the database.
Missing Information?
If any information appears to be missing from this page, contact us and let us know!