Soundtrack Information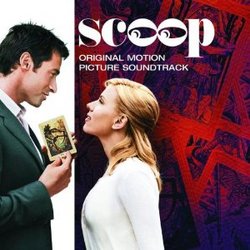 Scoop
Decca Records (B0007341-02)
Release Date: July 25, 2006
Formats: CD, Digital
Music From
Purchase Soundtrack
Track Listing
| | | |
| --- | --- | --- |
| 1. | Swan Lake Ballet Suite: Scene (Tchaikovsky) | 3:02 |
| 2. | Swan Lake Ballet Suite: Valse (Tchaikovsky) | 6:49 |
| 3. | Swan Lake Ballet Suite: Danse des cygnes (Tchaikovsky) | 1:27 |
| 4. | Swan Lake Ballet Suite: Scene (Tchaikovsky) | 6:21 |
| 5. | Swan Lake Ballet Suite: Danse hongroise (czardas) (Tchaikovsky) | 3:18 |
| 6. | Swan Lake Ballet Suite: Scene (finale) (Tchaikovsky) | 4:17 |
| 7. | Annen-Polka (J. Strauss, Jr.) | 3:05 |
| 8. | Tritsch-Tratsch Polka (J. Strauss, Jr.) | 2:39 |
| 9. | Miami Beach Rhumba (Xavier Cugat and His Orchestra) | 2:39 |
| 10. | Sabre Dance (Khachaturian) | 2:29 |
| 11. | Peer Gynt Suite No. 1: Morning Mood (Grieg) | 4:06 |
| 12. | Peer Gynt Suite No. 1: Aase's Death (Grieg) | 4:31 |
| 13. | Peer Gynt Suite No. 1: Anitra's Dance (Grieg) | 3:19 |
| 14. | Peer Gynt Suite No. 1: In the Hall of the Mountain King (Grieg) | 2:09 |
| 15. | The Nutcracker Ballet No. 7 Scene (Tchaikovsky) | 3:37 |
| 16. | Adios Muchachos (Lester Lanin) | 1:57 |
| 17. | Recado (Lester Lanin) | 2:12 |
| 18. | Dengozo (Lester Lanin) | 1:49 |
| | Total Album Time: | 59:46 |
Review: Scoop
by Matt Brennan
September 2, 2006
3 / 5 Stars
Other than composer and pianist Dick Hyman, who wrote music for perhaps half a dozen out of Woody Allen\'s thirty-plus directed films, Allen has not used an original score since 1972\'s Everything You Always Wanted to Know About Sex But Were Afraid To Ask, and a self composed score to Sleeper in 1973. Instead, Allen is known for compiling soundtracks from Dixieland and jazz selections. With Match Point, he steered towards classical music, and his most recent project, Scoop, maintains this approach.
This soundtrack is weighted on the classical side with selections from Tchaikovsky, Strauss, and Grieg comprising the majority of the album. For a romantic comedy that deals in part with magicians and magic, I cannot think of better classical music than Tchaikovsky\'s Swan Lake and The Nutcracker, which segue flawlessly between a light, magical innocence and tense drama; just listen to the first track on the disc. Grieg\'s "In the Hall of the Mountain King" is another well known piece, and again the tone of this piece fits the combination of comedy, mystery, and magic that Allen\'s story includes, with its lilting melody that accelerates almost beyond control.
Personally, I prefer scores that are inspired by and composed for a film, but Allen has a knack for choosing the right music out of the extensive, existing canon. My only criticism of this soundtrack comes from listening to it on disc. While the majority of it is classical, there are a few jazz influences that don\'t seem to fit the album as a whole and disrupt the listening experience. I don\'t know where "Miami Beach Rhumba" or the three Lester Lanin tracks at the end of the album fit the movie, but they feel very out of place on this soundtrack. Woody Allen is known for choosing music that works together across styles on one album, but it doesn\'t work as well as usual here. If you\'re looking to purchase the music you heard in the movie, I would recommend a collection of Tchaikovsky\'s ballets, which are only heard in part here and are the highlight of this soundtrack.
Missing Information?
If any information appears to be missing from this page, contact us and let us know!