Soundtrack Information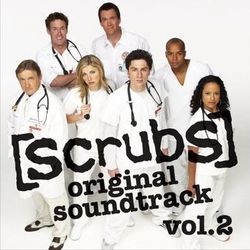 Scrubs, Volume 2
Release Date: May 9, 2006
Format: Digital
Purchase Soundtrack
Track Listing
| | | |
| --- | --- | --- |
| 1. | "I Want To Know" - The Mavericks | 3:33 |
| 2. | "Dreaming of You" - The Coral | 2:22 |
| 3. | "Our Love" - Rhett Miller | 3:33 |
| 4. | "Why" - Elefant | 3:54 |
| 5. | "Question" - Old 97's | 2:17 |
| 6. | "In The Sun" - Joseph Arthur | 5:37 |
| 7. | "Winter" - Joshua Radin | 3:25 |
| 8. | "Section 9 (Light & Day / Reach For The Sun)" - The Polyphonic Spree | 3:30 |
| 9. | "Half" - G Tom Mac | 3:35 |
| 10. | "Cindy" - Tammany Hall Nyc | 3:42 |
| 11. | "Diner" - Martin Sexton | 3:04 |
| 12. | "My Brilliant Feat" - Colin Hay | 3:27 |
| 13. | "Honestly" - Cary Brothers | 4:10 |
| 14. | "Sideways" - Citizen Cope | 5:19 |
| | Total Album Time: | 51:28 |
Review: Scrubs, Volume 2
by Brian McVickar
June 28, 2006
4.5 / 5 Stars
Scrubs is a show that deserves more attention than it receives for its consistently funny and genuinely charming tone, but its devoted fans keep it alive in the ratings and really, does NBC have much other worthwhile programming currently? Perhaps it is telling that this comedy appeals to an eclectic, offbeat niche portion of the population as the style of pop songs utilized in pointed ways on the show would probably not appeal to the masses or show up on the Top 40 charts. Scrubs\' lead Zach Braff himself is deeply involved in the indie rock scene, having produced the Grammy-winning soundtrack album to his well-received directorial 2004 debut film, Garden State. Fans of that popular album would do well to seek out this second volume of songs from Scrubs, released by Hollywood Records as an iTunes exclusive.
The album opens with the jaunty, Paul Westerberg-esque "I Want To Know" by The Mavericks and then moves through many pleasant offerings, all surprisingly by male vocalists, such as the earnest "In The Sun" by Joseph Arthur, the gentle acoustics of Joshua Radin\'s "Winter"and the county/rock songs of Rhett Miller and Old 97\'s. "Section 9" by The Polyphonic Spree is a trippy, 60\'s influenced number that ends up being overstuffed without earning it. There are also light rock numbers, such as "Half" by G Tom Mac, recommended for fans of Justin Currie and Del Amitri, with a small dose of Andy Partridge vocal stylings thrown in for good measure, and also Tammany Hall NYC\'s "Cindy" which flirts with a Blues Traveler sound. A musical potpourri is heard in "Diner", as veteran Martin Sexton stirs together a diverse mix of Cajun and country influences while the vocals swing from 50\'s Motown to scat. Fans of the 80\'s band Men at Work will enjoy hearing from frontman Colin Hay in his "My Brilliant Feat", whose music was also featured on Scrubs Volume One and also in Garden State. The album closes with beguiling tunes by Cary Bothers and Citizen Cope.
Soundtrack.Net Articles
Missing Information?
If any information appears to be missing from this page, contact us and let us know!