Soundtrack Information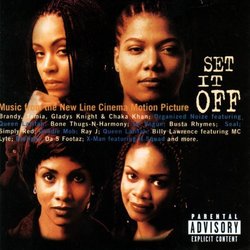 Set It Off
Release Date: September 24, 1996
Formats: CD, Digital
Music From
Purchase Soundtrack
Track Listing
1.
Set It Off (Organized Noize feat. Queen Latifah)
2.
Missing You (Brandy, Tamia, Gladys Knight & Chaka Khan)
3.
Don't Let Go [Love] (En Vogue)
4.
Days Of Our Livez (Bone Thugs-N-Harmony)
5.
Live To Regret (Busta Rhymes)
6.
Sex Is On My Mind (Blulight)
7.
Angel (Simply Red feat. Cool Breeze & Backbone)
8.
Name Callin' (Queen Latifah)
9.
Angelic Wars (Goodie Mob)
10.
Come On (Billie Lawrence feat. Backbone & Cool Breeze)
11.
Let It Go (Ray J)
12.
Hey Joe (Seal)
13.
The Heist (Da 5 Footaz)
14.
From Yo Blind Side (X-Man feat. H. Squad & Chocolate)
Track lengths not available for this album. If you have track length/time information for this album, please e-mail it to us at mail@soundtrack.net and we will add it to the database.
Missing Information?
If any information appears to be missing from this page, contact us and let us know!