Soundtrack Information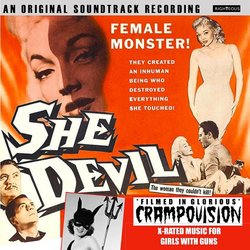 She Devil
Release Date: June 22, 2018
Format: CD
Music From
Purchase Soundtrack
Track Listing
1.
Red Headed Woman (Sonny Burgess)
2.
Mean Woman Blues (Jerry Lee Lewis)
3.
Death Letter Blues (Jimmy Yancey)
4.
Sinful Woman (Bill Browning and His Echo Valley Boys)
5.
Oogly Googly Eyes (The Fanatics)
6.
Harlem Nocturne (The Viscounts)
7.
Motorcycle Millie (Garrett Williams)
8.
You Been Torturing Me (Four Young Men)
9.
Trouble (Jackie Dee)
10.
If You Can't Rock Me (Debbie Stevens)
11.
As Long As I'm Moving (Ruth Brown)
12.
The Web (Abie 'Available' Baker)
13.
Tongue Tied (Betty McQuade)
14.
Ten Cats Down (The Miller Sisters)
15.
She's a Going Jessie (Andy Starr)
16.
Peroxide Blonde and a Hopped Up Model Ford (Gene Simmons)
17.
The Snake (Maximilian)
18.
I Thought I Told You About Them (Marie Knight)
19.
12th and Dearborn (Jimmy Yancey)
20.
Nag (The Halos)
21.
Killer (Sparkle Moore)
22.
Don't Bug Me Baby (Milton Allen)
23.
Don't Be Mad (Don Feger)
24.
Scorpion (The Carnations)
25.
I'm Gonna Tell on You (George Fleming)
26.
Don't Shoot Me Baby (I'm Not Ready to Die) (Bill Bowen)
27.
Service with a Smile (Kuf-Linx Featuring John Jennings)
28.
Enough Man (Bobby Christian)
Track lengths not available for this album. If you have track length/time information for this album, please e-mail it to us at mail@soundtrack.net and we will add it to the database.
Missing Information?
If any information appears to be missing from this page, contact us and let us know!